Spot graphics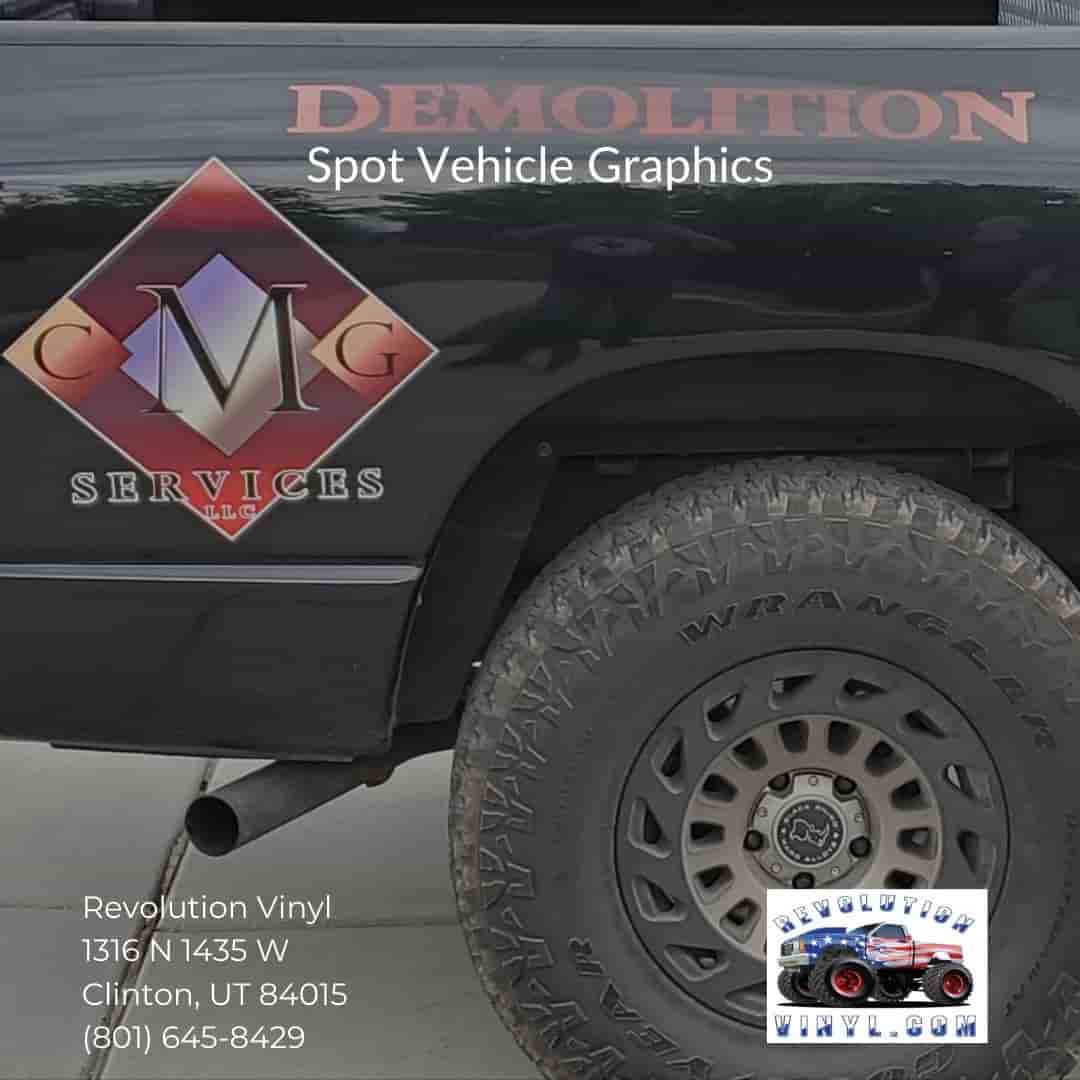 For many fleet graphics applications or commercial mobile Advertising, spot graphics are plenty adequate. Sure, there's something impressive about full 360 Vehicle Graphics coverage, but often spot graphics do just as well. You can use them to communicate your logo, phone number, website, and even a tagline. Place them on the doors of your car, Pickup truck, van, or other company vehicle. Apply them to a Trailer, Box truck, Food truck, or an entire fleet of vans. Revolution Vinyl is the leading Ogden Vehicle Graphics shop, and we done a ton of spot graphics on all types of work vehicles for all types of businesses. Spot graphics are a great way to get some basic Vehicle Graphics and advertise your business—without breaking the bank. For company vehicle fleets, spot graphics are an affordable way to get your message across a lot of vehicles. So, if you'd like a logo Decal, some simple messaging, or other types of spot graphics, call Revolution Vinyl and we'll make it happen!
Full Vehicle Graphics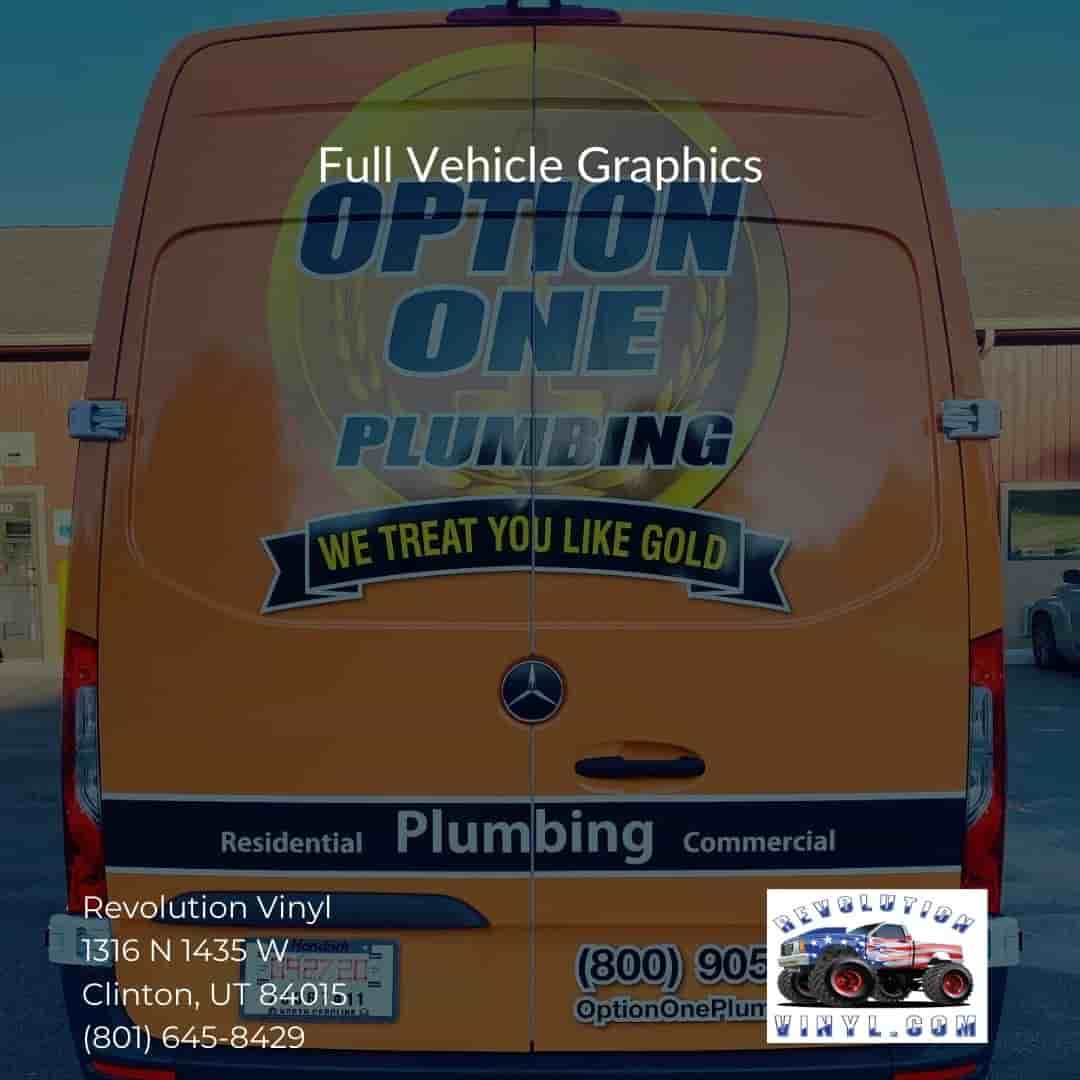 Full-coverage Vehicle Graphics create an unmistakable effect that will get lots of attention on the freeway, around town, or parked on the street. Wrapping your company vans, pickup trucks, or box trucks in full Vehicle Graphics transforms them into a mobile Billboard, and the larger they are, the greater the effect of this Billboard in terms of its visibility and Advertising reach. Studies show that people notice branded vehicle wraps, much more than other forms of advertising, which makes sense if you think about it: you're stuck in traffic or driving down a monotonous freeway, and there, beside you, is a vivid Mercedes-Benz Sprinter van with plumbing company advertising plastered across it. Of course you're going to take notice…it's not like you have anything else to stare at. What's more, you wrap your company vehicles once and they advertise for you 24/7/365 (Vehicle Graphics can last for years). You won't find another marketing or Advertising avenue that gives a better ROI.
Custom vinyl Lettering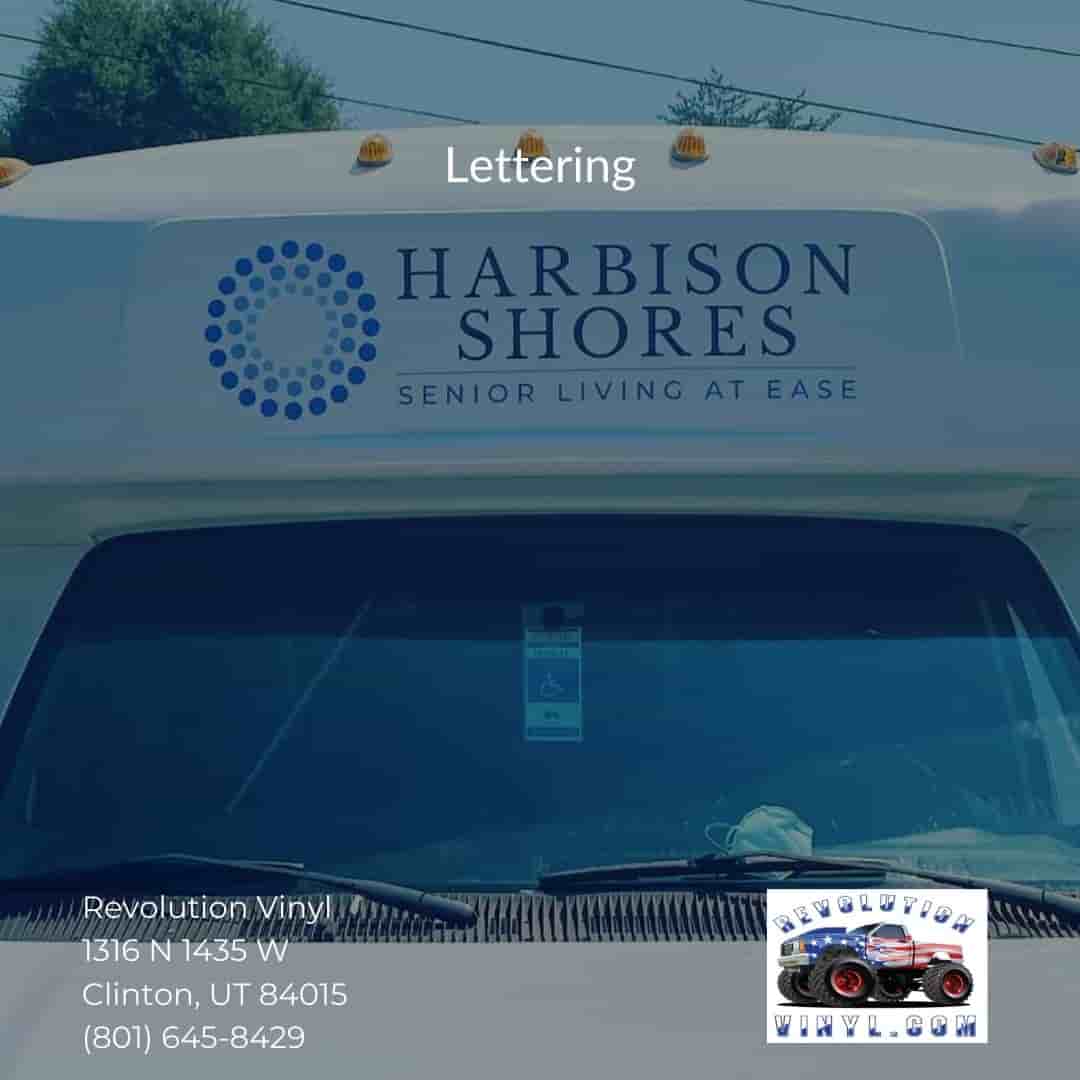 You can do a lot with custom vinyl Lettering, and you can use it for personal, aesthetic, or Advertising purposes. Throw some large vinyl Block letters on a Box truck, a wall, or some other large surface, and you're communicating loudly and clearly about your brand, your perspective, or whatever it is you want folks to pay attention to. Do some fine script on your Storefront window and you create a sense of elegance. If you live by a personal motto, you could have that motto transferred to vinyl Lettering and put across the hood of your vehicle. Or maybe across the rear window of your Pickup truck, using one-way vision perf Window film. Whatever your preferred aesthetic and whatever the surface you're using for communication, you'll want to use Revolution Vinyl for your custom Lettering needs. We're the top Ogden Sign shop for all types of vinyl Lettering and we'll be sure to do right by you! Call (801) 645-8429 today for a free estimate on your Lettering project!