Custom Boat graphics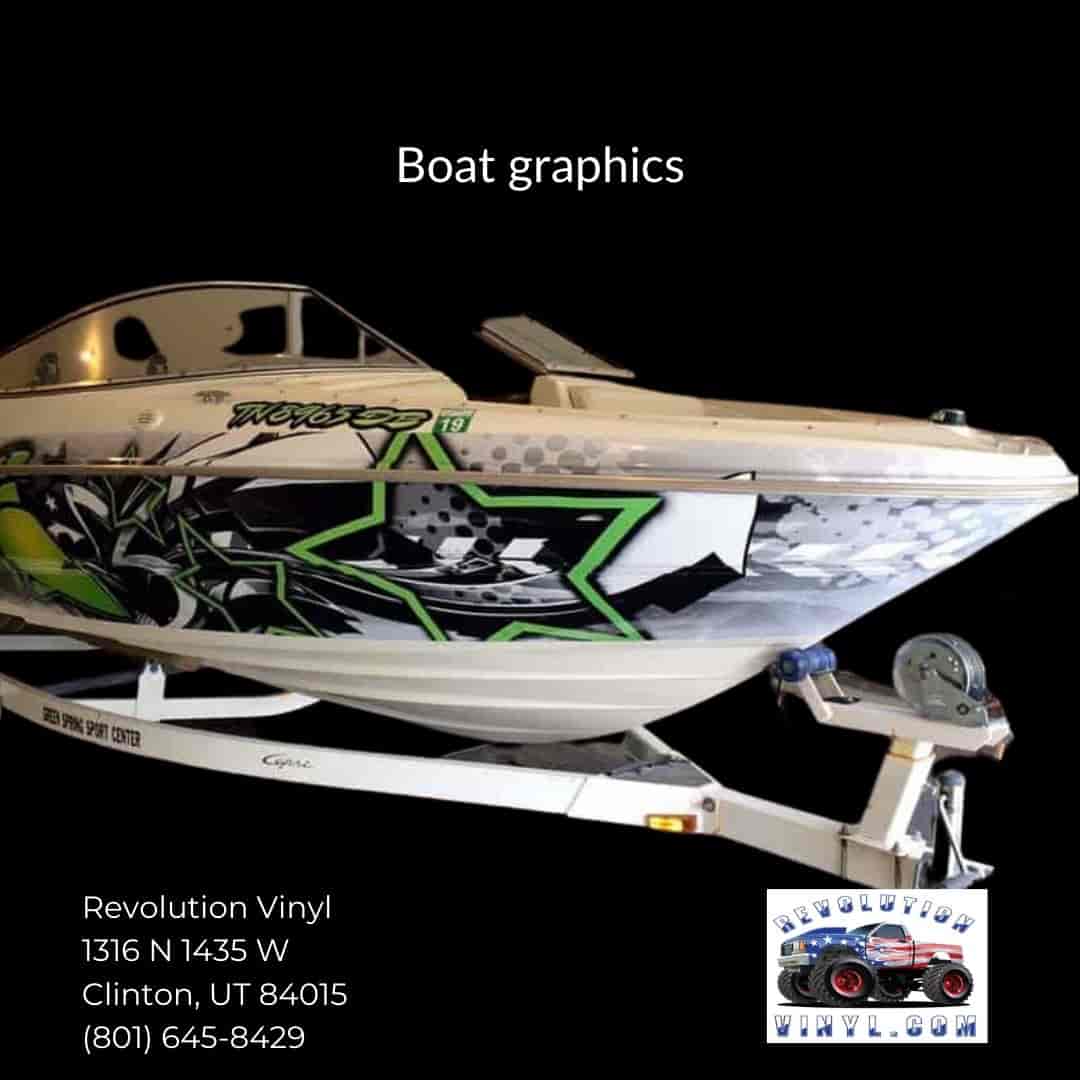 With printed Vehicle vinyl wrap material from Avery Dennison or 3M, we can do some really cool graphic boat wraps. And, with our Digital printing technology, Revolution Vinyl can make your Boat wrap totally unique! If you already have some artwork or a pattern prepared, just send us the vector file and we'll print it to the boat wrap material. If you don't have artwork, our designers can work with you to create the perfect set of boat graphics! After you've approved the boat graphic proofs, our Large format printing operation kicks in and we print the artwork onto the Vehicle vinyl wrap material. Finally, our seasoned boat wrap experts prepare the surface of your Boat or Personal watercraft and carefully apply the vinyl graphics to your boat. When we're done, you'll have a one-of-a-kind watercraft that will turn heads on the freeway and the lake! Revolution Vinyl is the top Ogden boat graphics company, so call today to discuss getting some vinyl Boat graphics on your boat!
Boat Lettering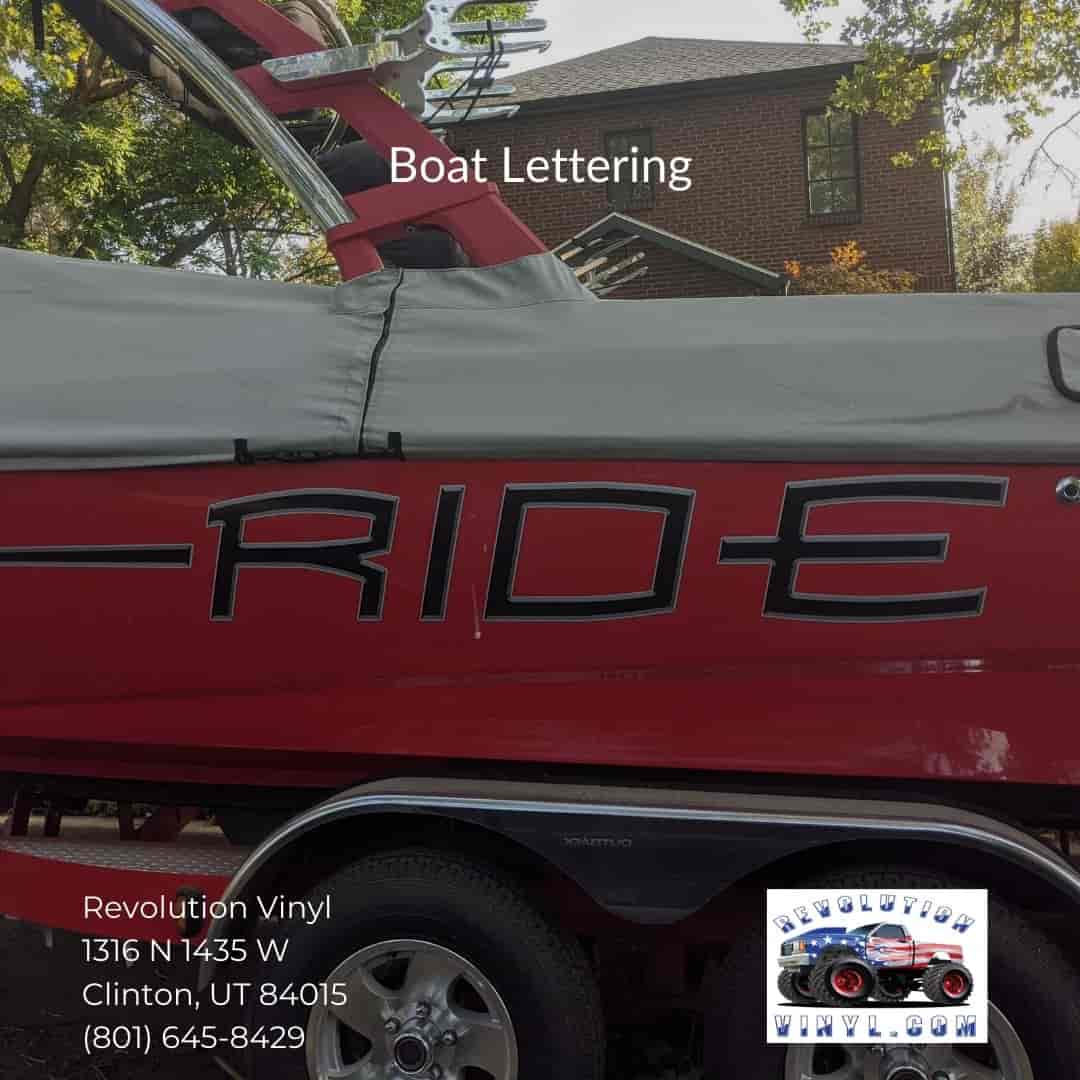 Some custom vinyl Lettering is a great way to add your personal touch to your Boat, jet ski, or other Personal watercraft. Whether you want your Lettering in a blocky font, cursive font, or Japanese kanji, Revolution Vinyl can handle all types of vinyl Lettering, no problem! We can put your vessel's name on the rear of the boat, on the starboard bow, or wherever else. Do you have a personal motto? Whether it's "Memento mori," "My other boat is a yacht," "Remember to enjoy yourself," "America, heck yeah!" or "Live and let live," Revolution Vinyl can bring that motto to vivid life on the hull of your Boat. We can also do custom Lettering in the form of a Decal, whether it be for your Boat registration, as part of a larger Decal graphic, or for any other purpose. In short, if you need letters, numbers, words, or images on your Boat, Revolution Vinyl is the Ogden vinyl wrap shop for the job! If you've got a Boat in the greater Ogden, Layton, or Clearfield region, hit us up!
Custom boat wraps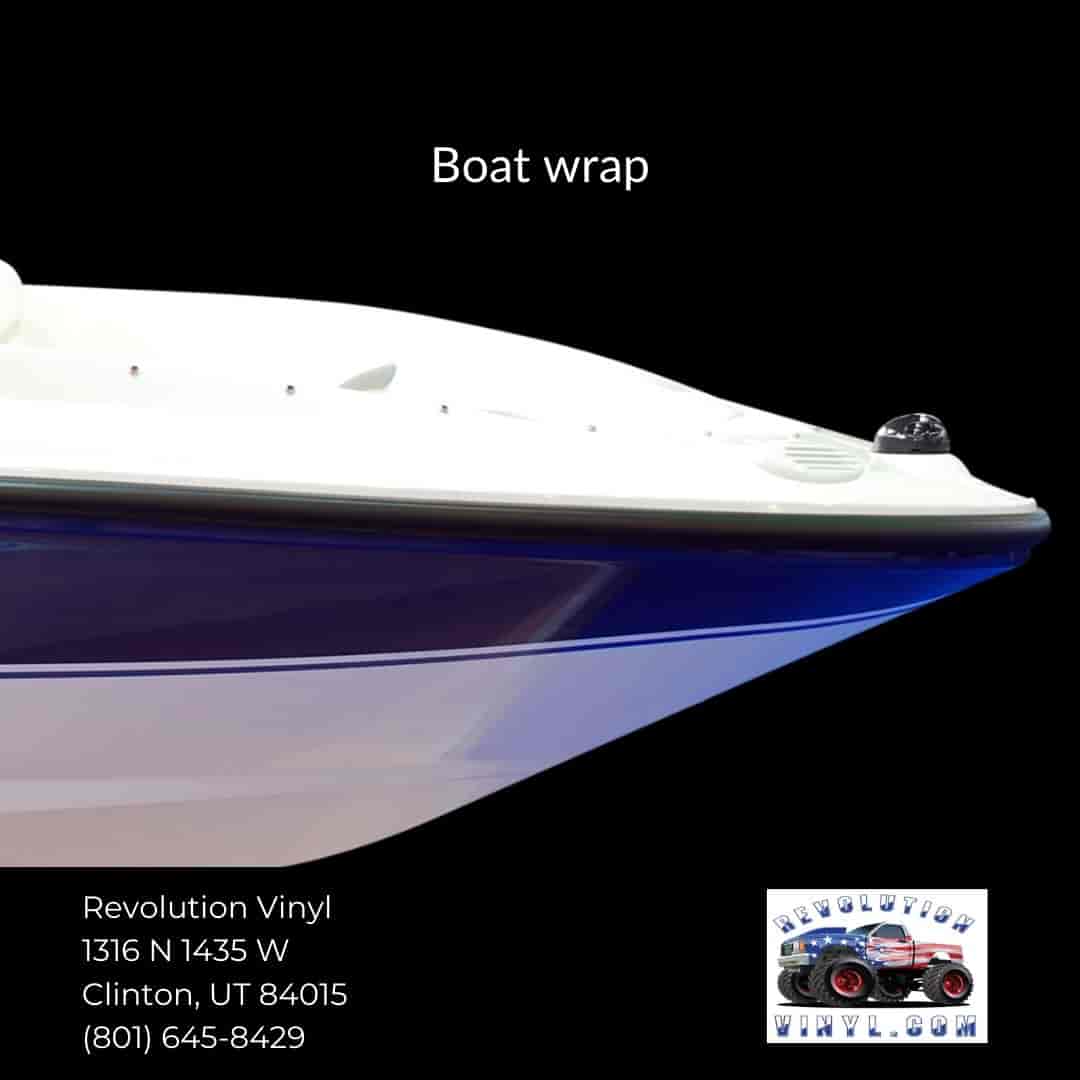 A vinyl color change Boat wrap is a great way to transform the look of your watercraft. Whether your boat is new and you'd prefer a different color, or older and you want to update its appearance, Revolution Vinyl can apply a stylish vinyl boat wrap to have it looking sharp! Here at Revolution Vinyl, we like to use 2080 series vinyl wrap made by The 3M Company. The 3M™ 2080 Series Boat Wrap film offers more than a hundred unique colors, finishes, and patterns. From the "color flip" (where the color is not solid but changes depending on lighting etc) Caribbean Shimmer in satin finish, to the textured Carbon Fiber Anthracite, to Gloss Hotrod Red to Matte Copper Metallic, there are so many cool boat wrap finishes in this line. Then, to extend your choices still further, we also offer boat wraps in Avery Dennison's 900 Boat Wrap vinyl series. It, too, has more than a hundred designer colors, from Gloss Metallic Sand Sparkle to Satin Bubblegum Pink to the effervescence of Diamond Amber.