Truck wrap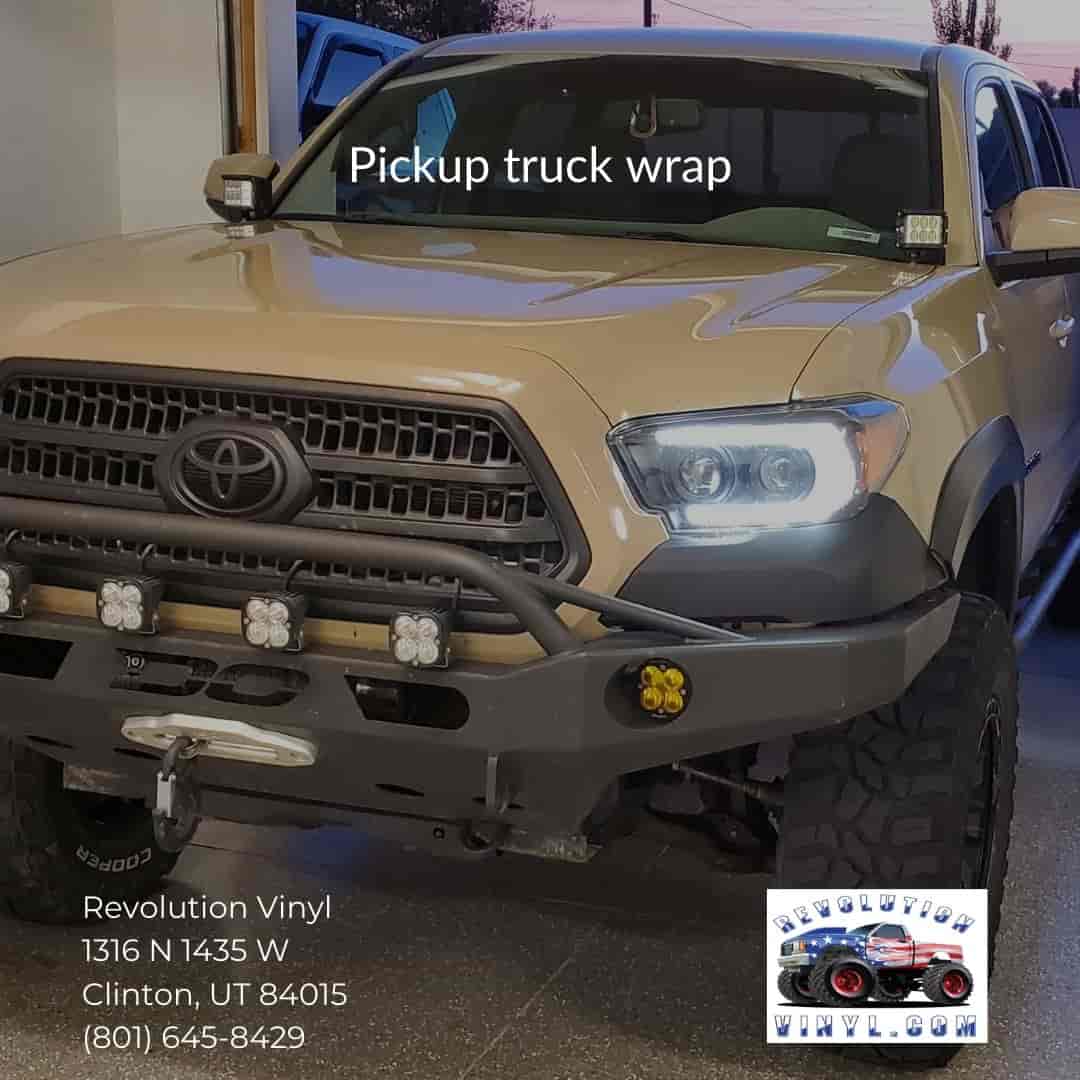 Whether you drive a Toyota Tundra, Jeep Gladiator, Ford F150, Dodge Ram, Nissan Frontier, Chevrolet Silverado, GMC Sierra, or any other type of Pickup truck, there are many reasons to wrap it in a Vehicle vinyl wrap from The 3M Company or Avery Dennison. Maybe you want it to have a camo truck wrap because you're a hunter. Maybe you want that cool shade of olive green not available from the manufacturer. Maybe you want to preserve your trucks paint. All valid reasons to get a truck wrap. There are so many different types of vinyl truck wraps available that there will be something for everyone. For example, many Pickup truck owners are fond of matte black vinyl wraps; gunmetal gray truck wraps are also very popular, as are Camouflage truck wraps, gloss black wraps, Nardo Grey wraps, and others. Of course, if you want your Pickup truck to really stand out as unique, you could opt for something bold: Avery Dennison Gloss Metallic Fun Purple, for example?
3M vinyl wrap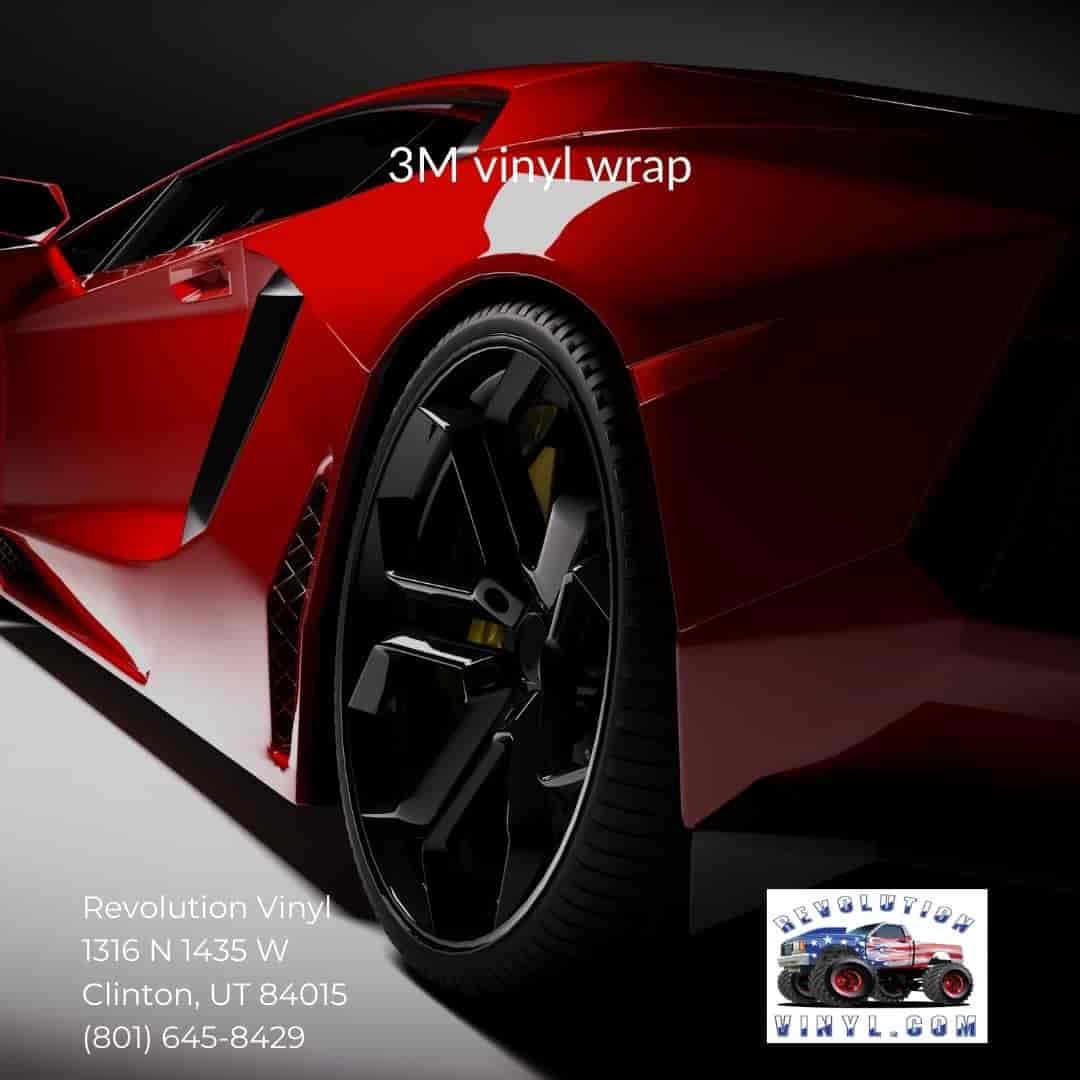 The 3M Company has been around longer than anyone else in the Vehicle vinyl wrap manufacturing scene, and they've always been at the forefront of innovations in materials science. Their car wrap products are top-of-the-line, which is why Revolution Vinyl is proud to offer them to our customers. Here at Revolution Vinyl, we install every 3M vinyl wrap to the same exacting standards. Whether we are printing and installing 3M Scotchcal perforated Window film, or doing a 3M color change wrap, we prep every surface thoroughly and follow all manufacturer best practices for applying the 3M wrap material. Plus, 3M has some wonderful car wrap colors! Whether you're a Satin Flip Psychedelic Story sort of person, a Lemon Sting soul, or more of a Shadow Military Green personality, there's sure to be something that expresses your personal tastes…and turns heads in the process! To get your free 3M car wrap estimate, call Revolution Vinyl today at (801) 645-8429!
Carbon fiber wrap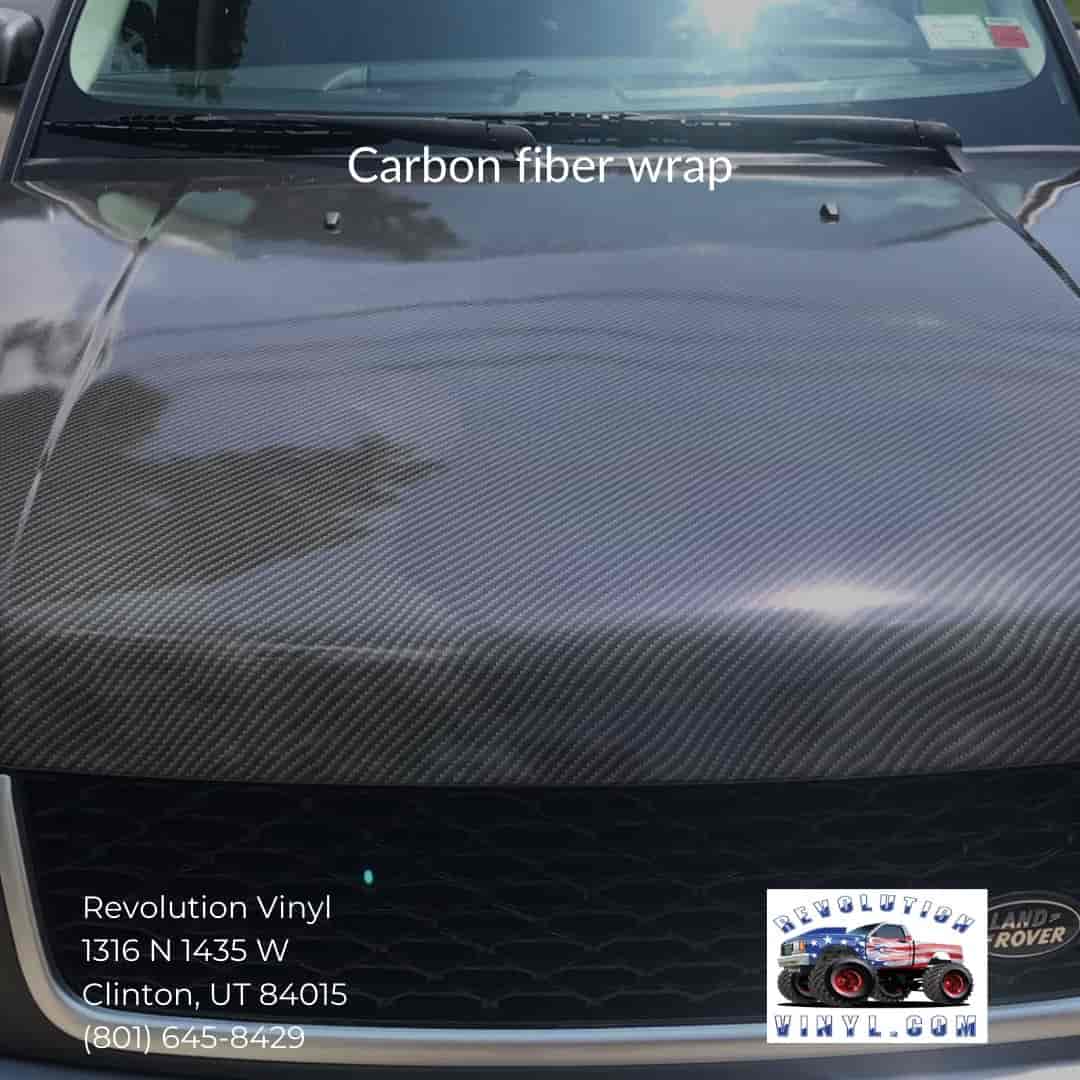 Carbon Fiber Reinforced Polymer, abbreviated CFRP and usually called carbon fiber, is a composite material known for its trademark weave. It's lightweight, super strong, and fairly expensive. It's usually used in the construction of high-end sports cars, military components, and aerospace applications. It's cost-prohibitive to use it for the manufacture of the average vehicle. With carbon fiber wrap from 3M or Avery Dennison, however, you can have that high-end, sporty look at a fraction of the cost. You can have us wrap your entire car, truck, van, SUV, or whatever in carbon fiber vinyl wrap, or you could opt for some carbon fiber accents. For example, we could apply carbon fiber car wrap to your mirrors. You could get a carbon fiber hood wrap, carbon fiber roof wrap, or carbon fiber stripe. There are so many ways to use carbon fiber car wrap to create a stunning impression! Talk to us here at Revolution Vinyl and we'll help you understand your carbon fiber vinyl car wrap options!
Chrome delete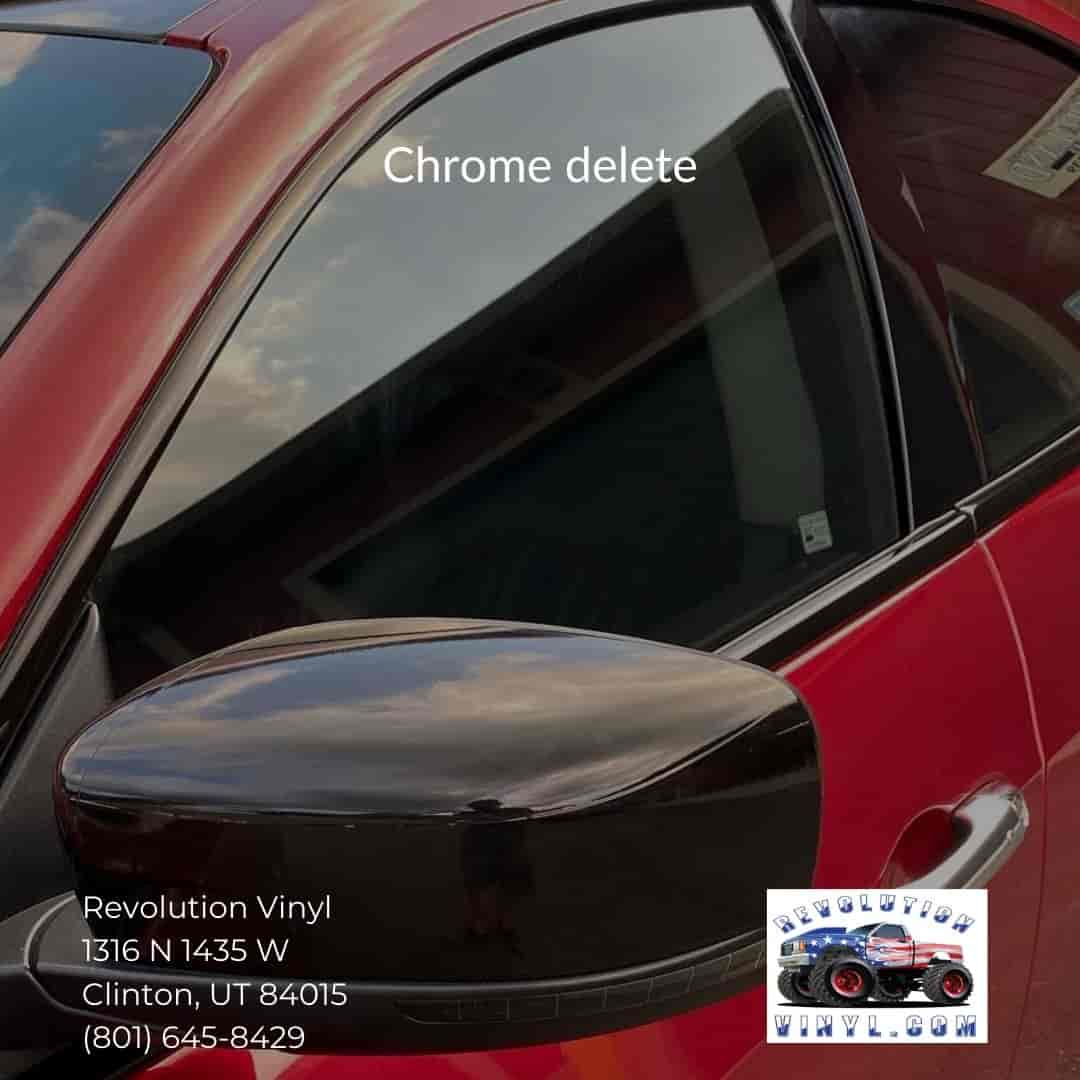 If you don't like having shiny trim around your vehicle windows and other parts of your vehicle, a Revolution Vinyl chrome delete might be the thing for you. When we perform a chrome delete on your car, Pickup truck, van, SUV, or crossover, we carefully wrap each trim piece in 3M or Avery Dennison Vehicle vinyl wrap material to hide (or "delete) the chrome. Our customers like chrome deletes on their vehicles because of the sleek, muted appearance which makes a stylistic statement. When we do a chrome delete, there are several approaches we can take. If we're already doing a Vehicle vinyl wrap, we can wrap the chrome the same color as the body so it blends. We can match, as closely as possible with the 3M and Avery wrap color selection, the car body paint. Or we can do the chrome delete in a neutral color to act as an accent to the vehicle body. For this latter approach, matte black, gloss black, gunmetal gray, and tan are popular choices.
Black vinyl wrap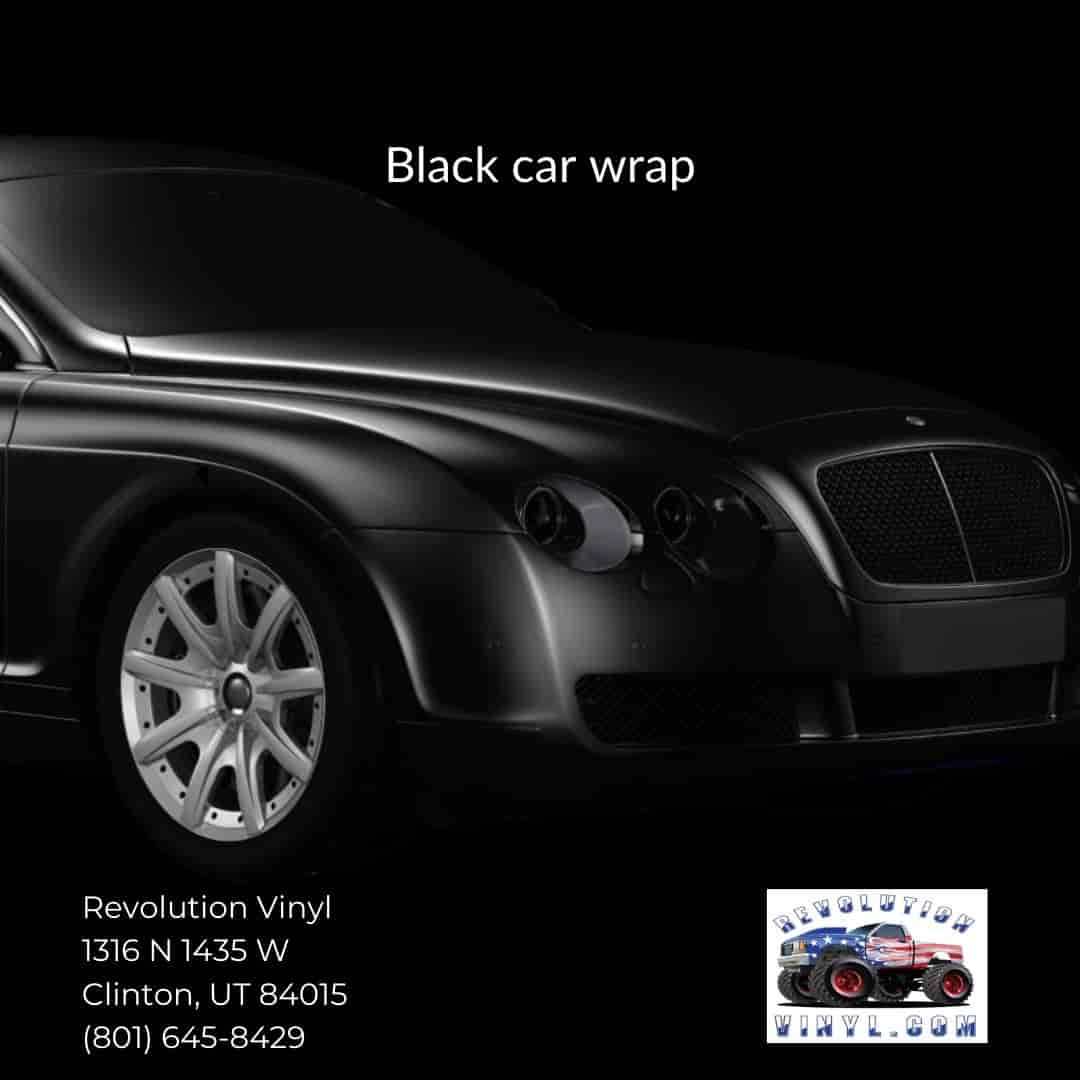 All black everything: there's nothing quite so cool and classy as a black vinyl vehicle wrap. There are so many finishes and shades of black vinyl car wrap that you may have trouble deciding which one to have us install! Some customers love matte black vinyl wraps; others love gloss black, others prefer eggshell black finishes, and still others regard satin black as superior. Then let's talk black Vehicle vinyl wrap colors: 3M and Avery Dennison have so many exciting designer colors in the black color range: 3M Deep Black, Dead Matte Black, Black Metallic, Brushed Black Metallic, Matrix black; Avery Dennison Gloss Obsidian Black, Black Rock Grey Metallic, Gloss Eclipse Metallic, Brushed Metallic Black, and Black Chrome. Yes, you heard that right: black chrome. If you're the type who's attracted to darkness—or just knows good style when you see it—get your black car wrap on by calling Revolution Vinyl at (801) 645-8429 and getting your free black vinyl car wrap estimate today!
Nardo Grey wrap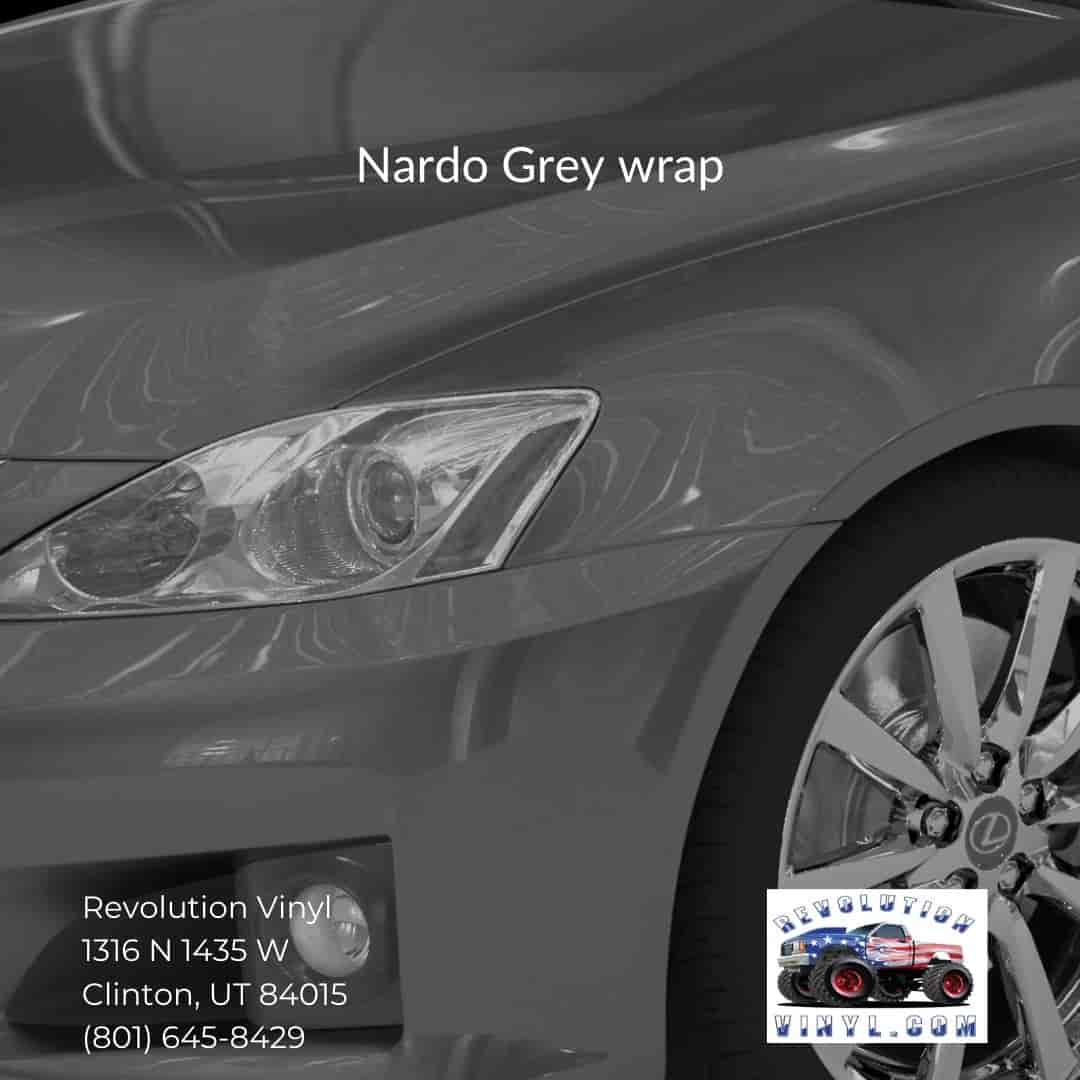 Ever since Audi introduced the Nardo Grey colorway, the battleship color has been among the most popular in the Vehicle vinyl wrap lineup. And for good reason: Nardo Grey strikes the perfect balance between class, minimalism, and elegance. Here at Revolution vinyl, we do our fair share of Nardo Grey car wraps on sports cars, work trucks, SUVs, vans, trailers, RVs, and even boats. So, if you're in the greater Ogden-Clearfield-Layton area and are considering a Nardo Grey vinyl wrap on your Cadillac Escalade, Jeep Grand Cherokee, Lexus LX, Nissan Titan, Subaru Outback, Toyota Highlander, Range Rover Westminster, Volvo S90, Winnebago RV, or any other vehicle, call up Revolution Vinyl at (801) 645-8429. We're the #1 Ogden car wrap installer, and we can make you proud with a new Nardo Grey vehicle wrap from 3M or Avery Dennison. We take great care with every Nardo Grey car wrap we do to ensure that it turns out as elegant and classy as the color itself!
Red vinyl wrap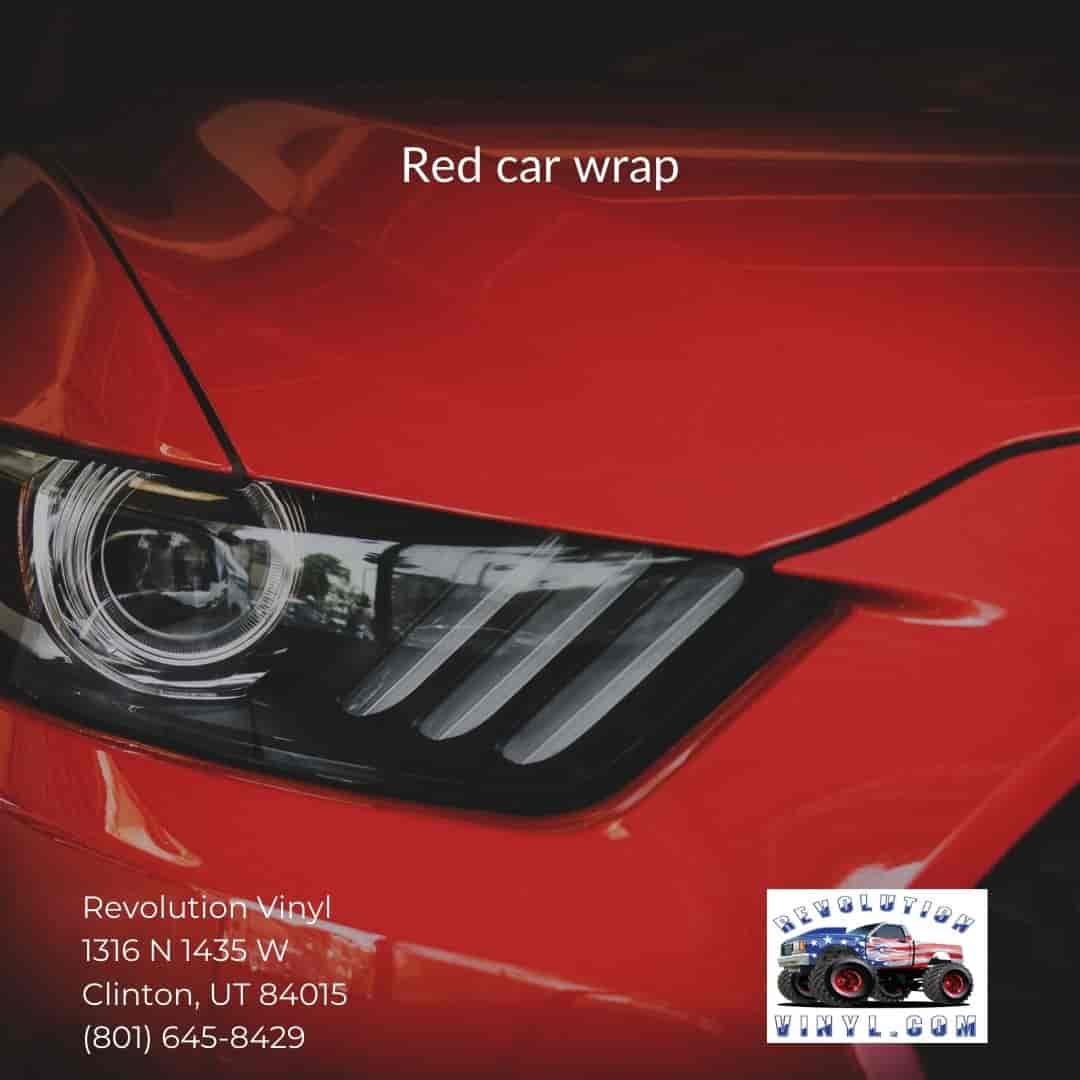 Red vinyl wraps are bold and flashy, and there are so many red colorway options from The 3M Company and Avery Dennison! If you're into red, you'll definitely find a red Vehicle vinyl wrap color that fits you perfectly. Avery Dennison has its Gloss Metallic Spark, Gloss Diamond Red, Gloss Carmine Red, Gloss Pearl Red, Matte Garnet Metallic, Gloss Metallic Passion Red, and even a GLS Roaring Thunder Blue/Red that fades from—you guessed it—blue to red. 3M, in its vinyl wrap red lineup, features such gems as 3M 1080 Gloss Cinder Spark Red, Dragon Fire Red, Gloss Black Cherry, Gloss Black Rose, Gloss Lipstick Red, Smoldering Red, 2080 Gloss Flame Red, Hot Rod Red, Matte Red Metallic Vinyl Wrap, APA Vehicle Wrap Gloss Candy Red, and more. So, if you want your car, Pickup truck, SUV or other vehicle "murdered out" as they say, let Revolution Vinyl do the honors. From metallic red to deep red to fire red, we can wrap your vehicle in the perfect red car wrap for you!
Hood wrap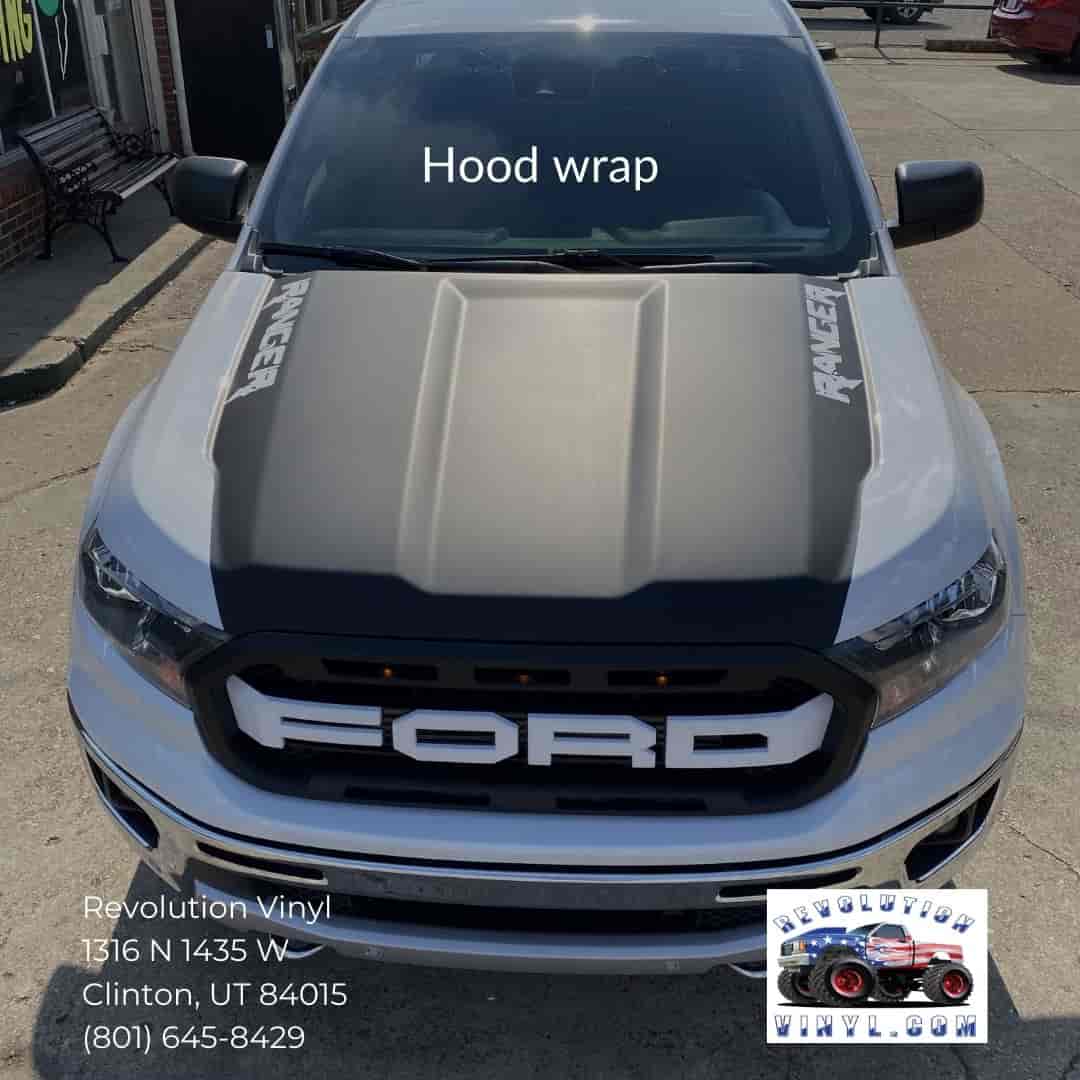 Wrapping the Hood of your vehicle is a good way to preserve it from sun damage, bird droppings, and rock chips. A vinyl hood wrap can also be a nice style statement. Whether you opt for a carbon fiber hood wrap to accent the rest of your car, a matte black hood wrap to offset your gloss black paint, or a gunmetal gray hood wrap to bring your fire red body down to earth, a hood wrap can be just about the sexiest thing ever. You can pair a Hood wrap with a Racing stripe—or not. Combine it with a Roof wrap, mirror wraps, or both. Or have it stand alone: a hood wrap and nothing else. You can have us add a custom print, some Lettering, or a Decal to the hood wrap easily enough—or have the hood a solid color. Whatever type of Hood wrap you opt for, you can rest assured that Revolution Vinyl will do the best Hood wrap work of anyone in the greater Ogden, Layton, and Clearfield area. Call us at (801) 645-8429 today for a hood wrap estimate!
Roof wrap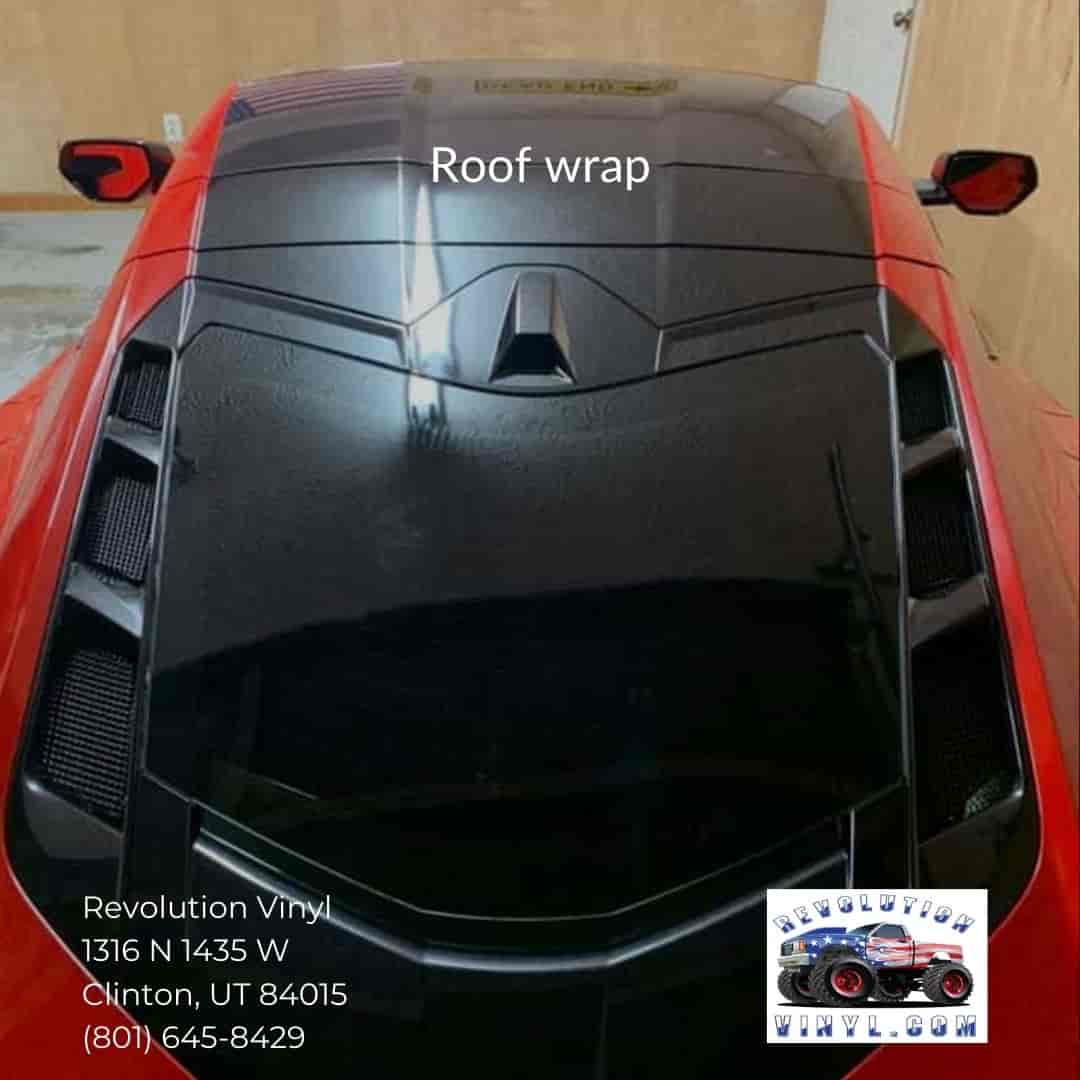 Much like a hood wrap, you can wrap the Roof of your Car, Pickup Truck, van, SUV, or other vehicle; the roof wrap will protect your vehicle's roof Paint from sun damage, bird droppings, tree sap, and other corrosives, while creating a stylistic statement at the same time. Here at Revolution Vinyl, we do a lot of gloss black vinyl roof wraps, since gloss holds up well and black goes with anything. We also do carbon fiber roof wraps, slate gray roof wraps, gloss white roof wraps, gunmetal roof wraps and many other roof wrap vinyl colors as well (though less frequently as those we mentioned first). If you'd like to give your vehicle a nice vinyl wrap accent and preserve your roof's finish at the same time, give Revolution Vinyl a call at (801) 645-8429. We'll give you a free roof wrap estimate, and when you choose to go ahead, we'll get you in and out with your finished roof wrap as quickly as possible! Each roof wrap is done to the highest quality standards for maximum durability.
Tesla vinyl wrap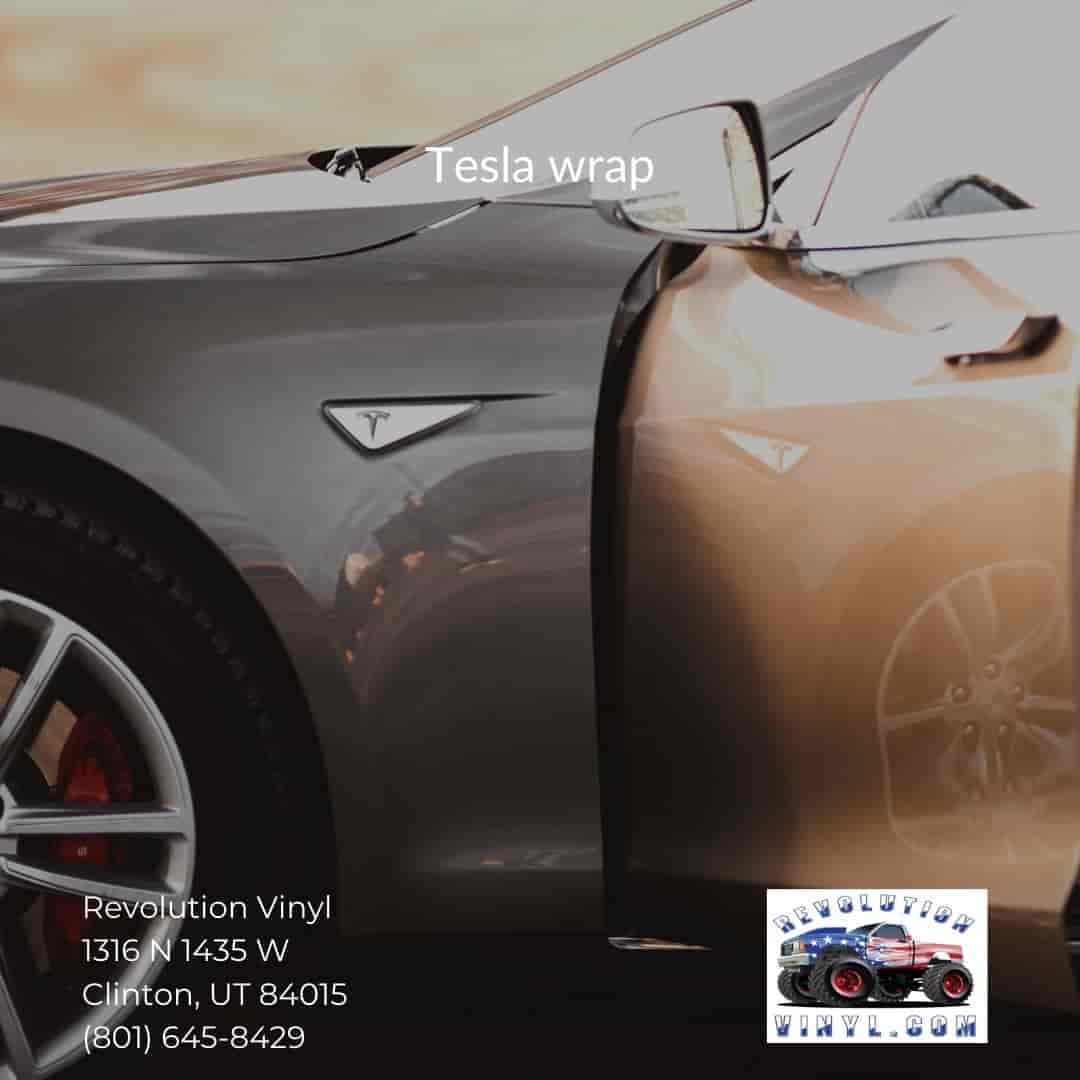 Here at Revolution Vinyl, we wrap a lot of Teslas. In fact, we may do more Tesla wraps than any other single vehicle! Why so many Tesla vinyl wraps? We have a hypothesis. Call it the Vinyl Tesla Wrap Hypothesis, or VTWH. We think it's because Tesla owners care even more about their Teslas than most vehicle owners care about their respective cars. Tesla owners care enough to preserve the paint of their Tesla, and they care enough to customize its appearance. After all, Tesla offers relatively few colorways, whereas 3M and Avery Dennison offer hundreds of exciting colors. So, if you own a Tesla in the Layton, Ogden, Clearfield, Syracuse, or Kaysville area, you'll want to turn to the area's top Tesla wrap installer: Revolution Vinyl. We'll get your Model S wrap, Model Y wrap, Model X wrap, or Model 3 wrap absolutely perfect! Whether you opt for an Avery Dennison Nardo Grey Tesla wrap, Gray Aluminum wrap by 3M, or Blue Raspberry (also by 3M), the results will be…delicious!
BMW vinyl wrap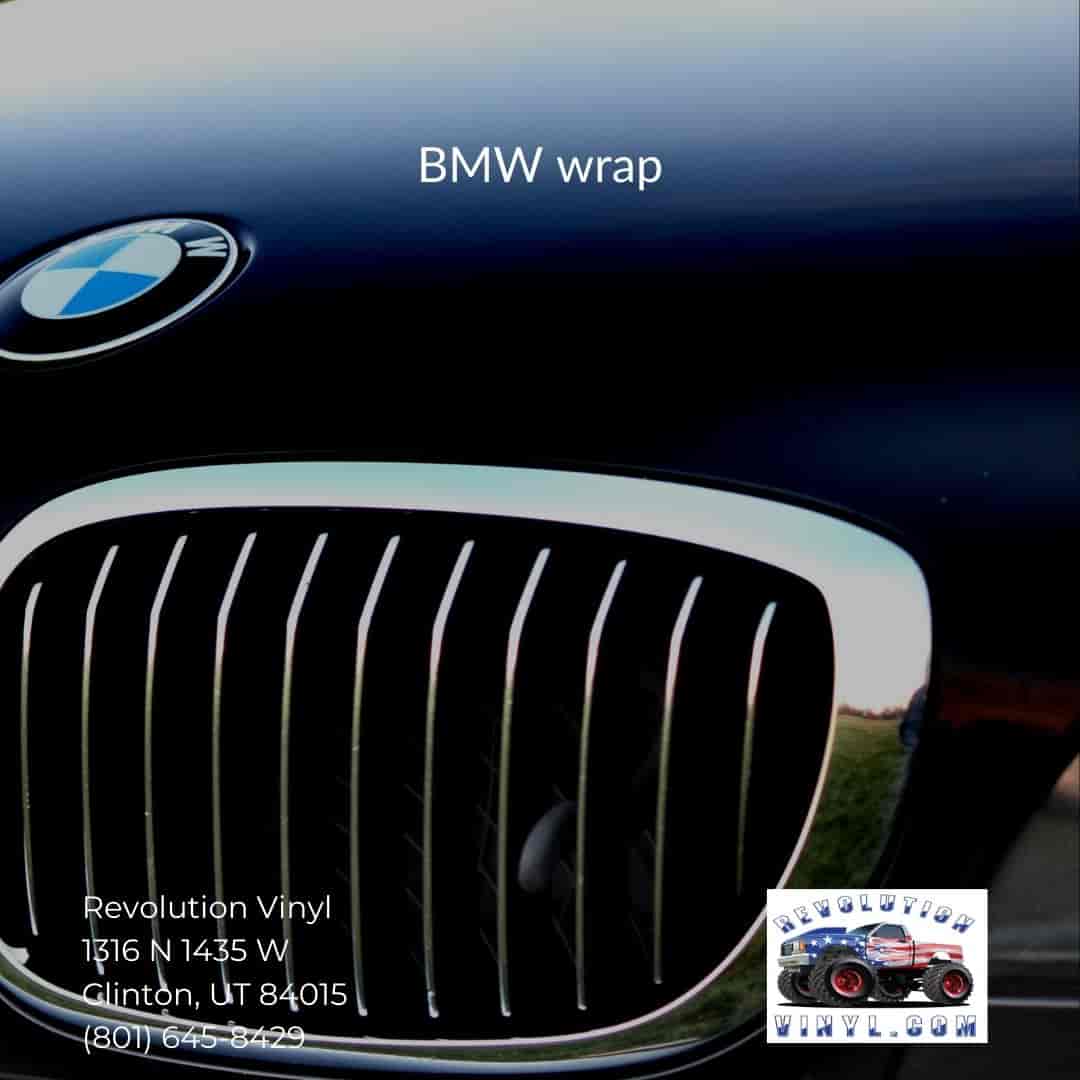 BMW wraps are fun for us! Something about applying Vehicle vinyl wrap over the sleek stylings of an M8 Coupe, 7 Series Sedan, or M8 Convertible just makes us happy. Naturally, we insist that every aspect of every BMW vinyl wrap is to the same standards of excellence as the BMW car itself. There are many good reasons to get a car wrap on your BMW. A BMW wrap will preserve the underlying paint finish; if you have Revolution Vinyl wrap a new (or like-new) Bimmer, you'll have perfectly preserved paint when we take the wrap off down the road. What's more, as a proud BMW owner / driver, you stylize your vehicle with designer colors and patterns far, far beyond the manufacturer choices. Naturally, BMW has some great color options, but do you really want to drive a Bimmer that looks like 40 or others in your city? We guarantee nobody in Clearfield will be driving a BMW X5 in 3M's Atomic Teal Vehicle vinyl wrap! Atomic Teal too much? Patterned, neutral Anthracite might hit the spot!
Jeep wraps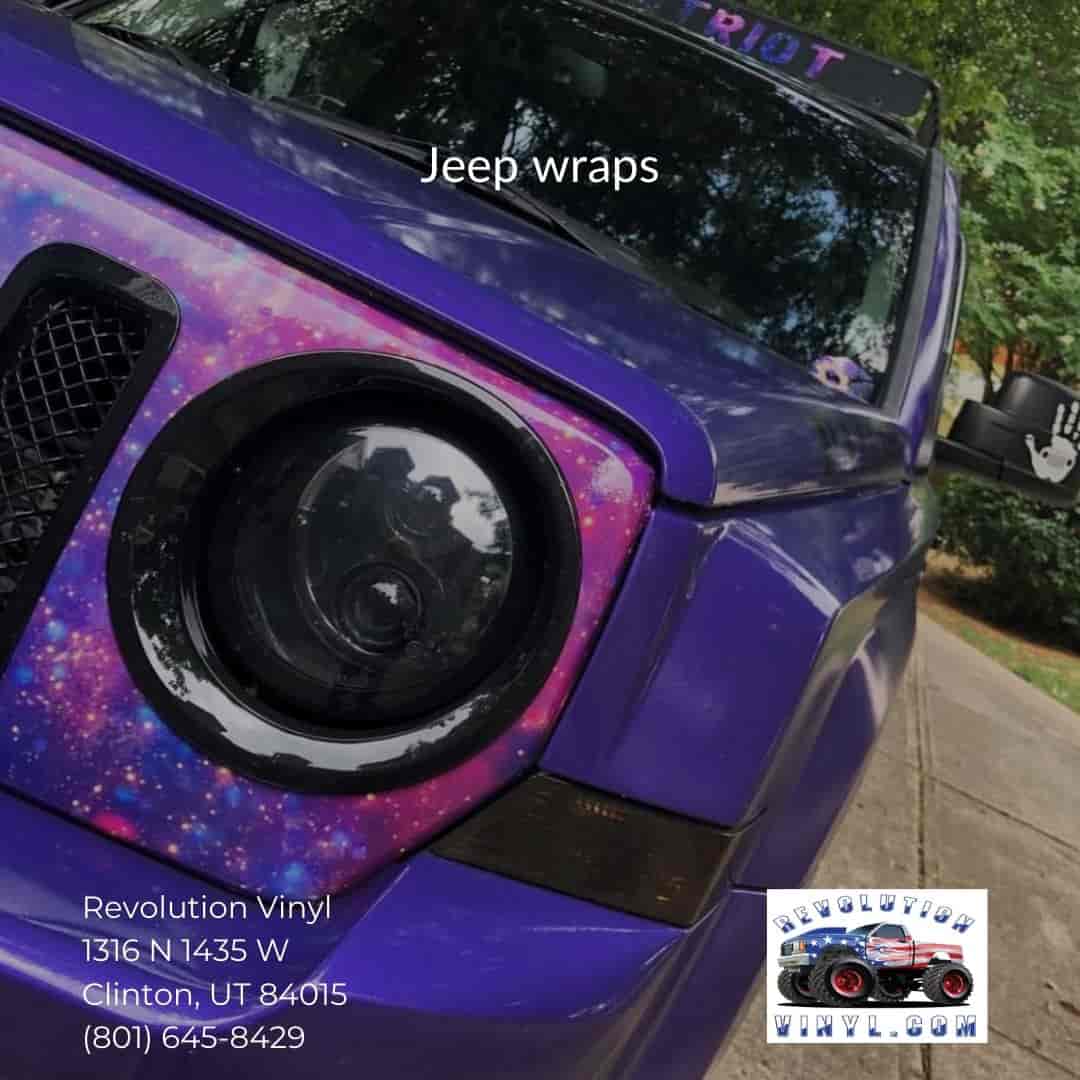 When it comes to restyling, customizing, and personalizing vehicles, Jeeps are about the most fun cars on earth! And while many Jeep owners are busy lifting, accessorizing, and otherwise pimping out their Jeeps, some Jeep owners have discovered the joys of Jeep vinyl wraps. With a 3M or Avery Dennison Jeep wrap by Revolution Vinyl, you can radically transform your Wrangler, Gladiator, Patriot, or whatever Jeep you're driving. Wrap your Jeep straight from the factory, or wrap it as part of a larger makeover. Do a Jeep Wrangler wrap with a custom bear scratch graphic thrown in. Commission us to do a Jeep Gladiator wrap in snow camo (so cool!). Wrap your Rubicon in 3M Shadow Military Green as a nod to its venerable ancestors (those original JEEPs of military provenance). Or, let your hair down and go with a 3M Fierce Fuchsia Jeep vinyl wrap. Whatever Vehicle vinyl wrap you choose for your Jeep, you'll love it—because your Jeep will be more…yours.
Mustang wrap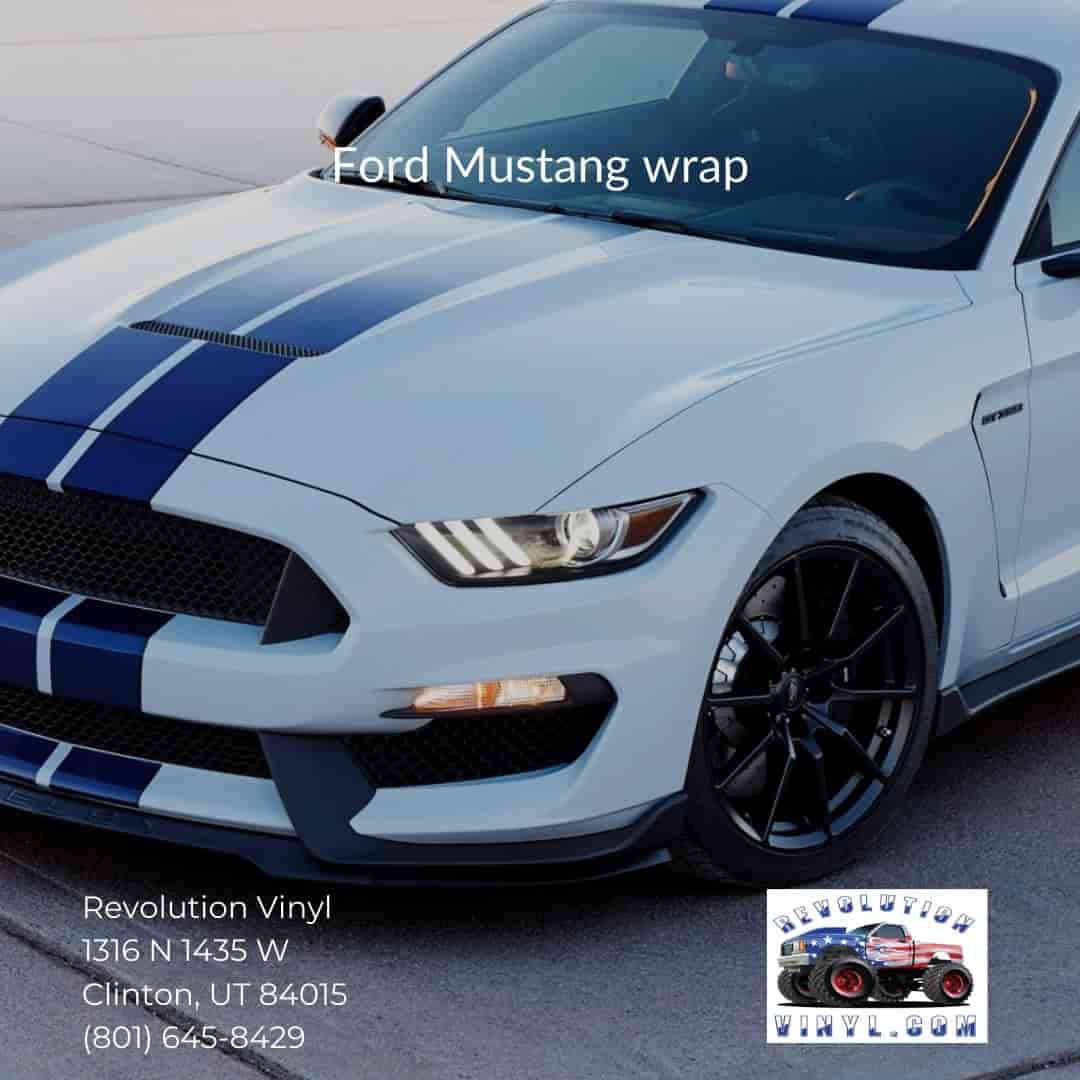 The Ford Mustang is one of the most iconic muscle cars of the 20th century, and still going strong. Vehicle vinyl wrap on a Mustang? We think it's a terrific blend of classic and cutting-edge. If you're a proud Mustang owner, consider protecting your car's paint and customizing its style with a Mustang wrap from Revolution Vinyl! We're the top Ogden car wrap company and we absolutely love to wrap Mustangs. Whether you own a Mustang GT Fastback, a Shelby GT350, a Mustang Bullitt, or any other 'Stang, we'd love to put some Vehicle vinyl wrap from 3M or Avery Dennison all over that beast of a car! Our Mustang vinyl wraps are done to the highest standards of excellence: a perfect tribute to such a perfect machine and important piece of Americana. If you're interested in a Mustang vinyl wrap, call Revolution Vinyl today at (801) 645-8429. We won't put the hard sell on you; we'll tell you the facts, answer all your questions, and give you a fair Mustang wrap estimate!
Camaro wrap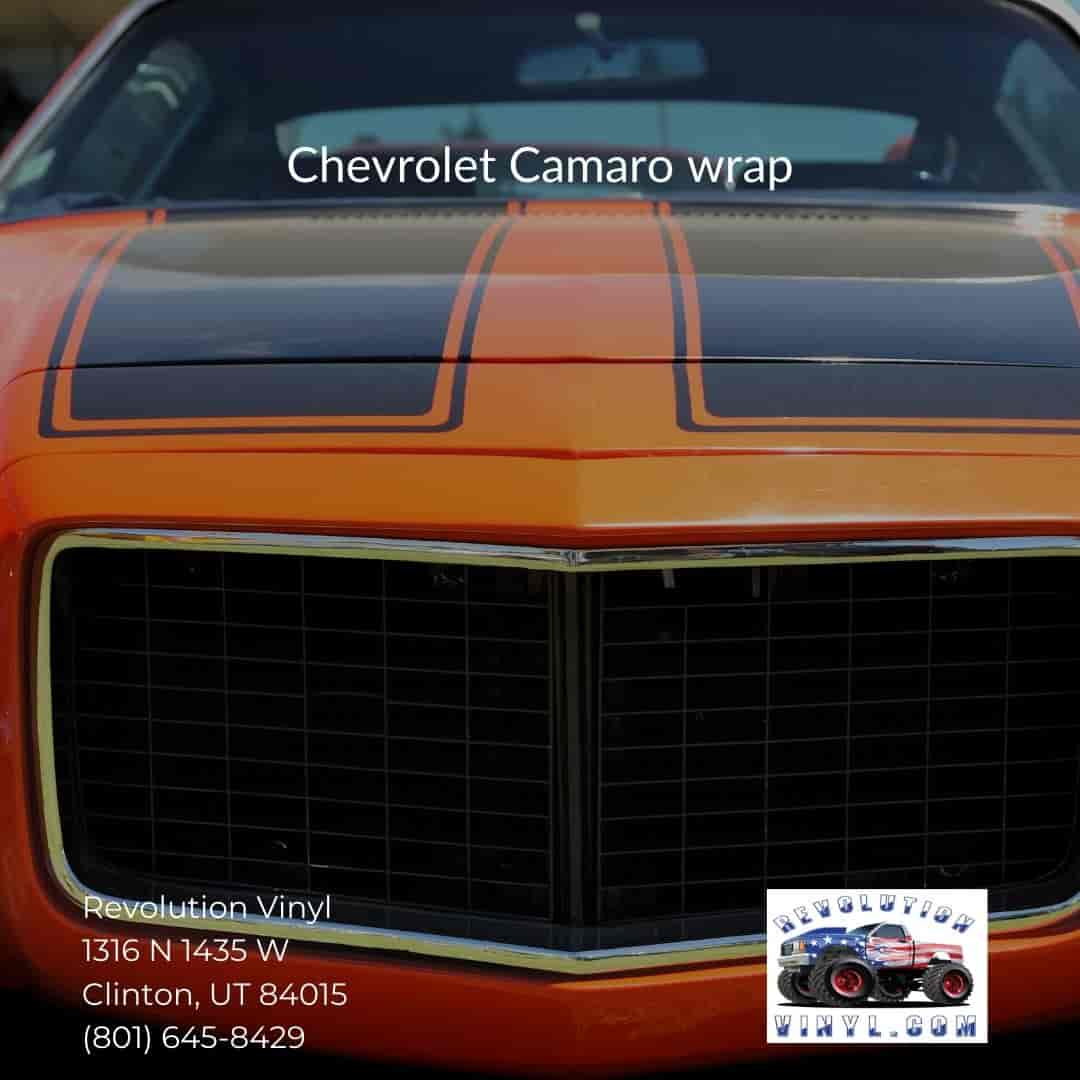 Like the Ford Mustang, the Chevrolet Camaro is a piece of American history and one of the most famous classic muscle cars still in production. To own a Camaro is to own a piece of American power, pure and simple. If you're the lucky owner of a Camaro and you're interested in personalizing its style and protecting its paint, you've come to the right place! Revolution Vinyl is the leading Camaro wrap shop of the entire northern Wasatch Front, and our skill and attention to detail will be a complement to your Camaro. We offer Camaro vinyl wraps in hundreds of amazing Vehicle vinyl wrap colors by Avery Dennison and The 3M Company, allowing you to go way, way beyond Chevy's factory color options. Want bright and flashy? Avery Dennison Gloss Metallic Spark (an efflorescent red) might be the thing for you. Or would you like to go with a more dignified Camaro vinyl wrap color? 3M Brushed Titanium is absolutely stunning in an understated way on a Camaro.
Dodge Charger wrap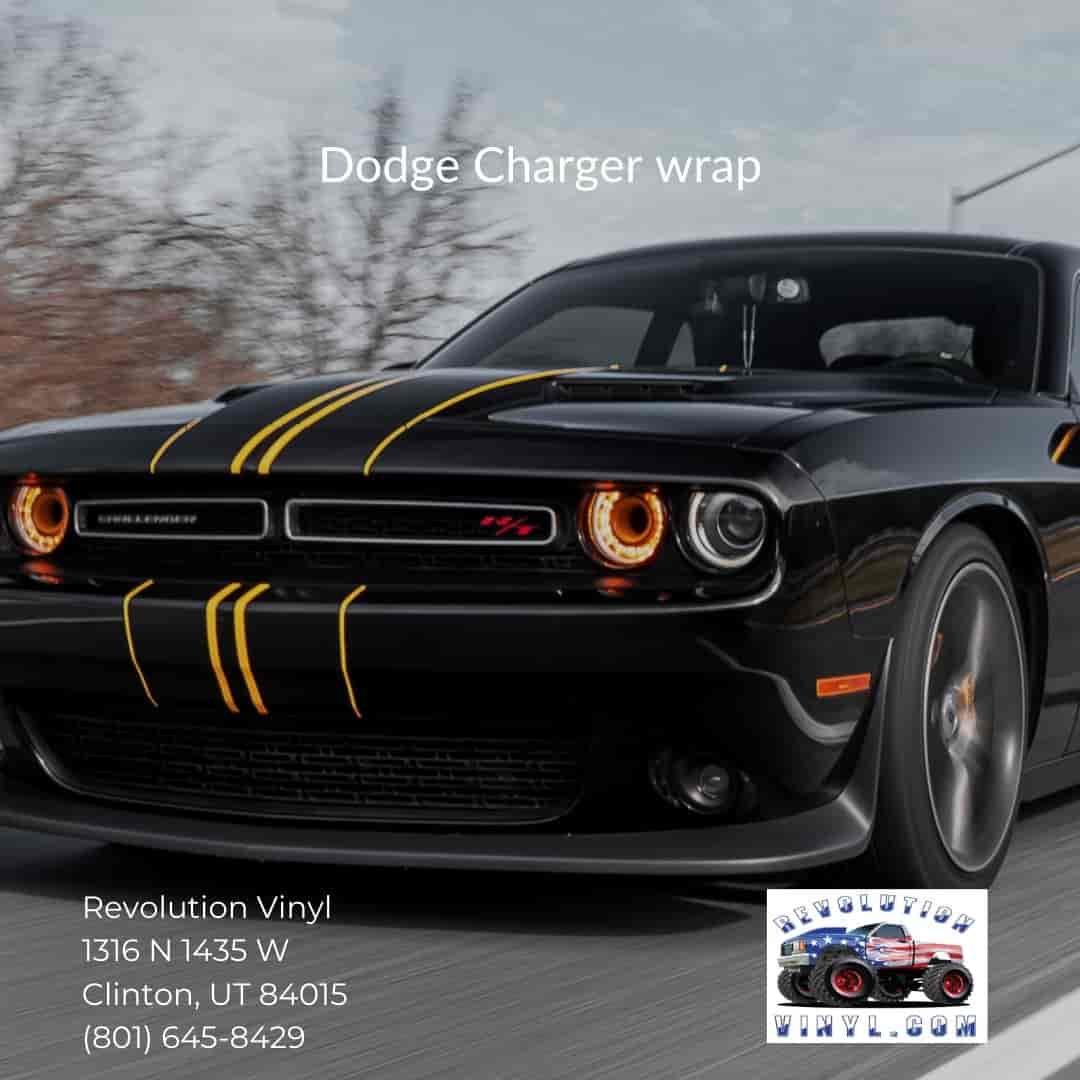 A Dodge Charger practically begs to be wrapped. With all that surface area and those curves, it is a Vehicle vinyl wrap company's dream. Here at Revolution Vinyl, we get excited whenever a Charger wrap comes along, because we love watching and participating in the remarkable transformation. Let's face it: Dodge's factory colors for its Charger lineup are pretty limited (though we have to admit, Hellraisin is a sweet color—and name). In contrast designer car wrap colors from The 3M Company and Avery Dennison (the two Vehicle vinyl wrap brands we offer our customers) are nearly limitless. We can take that Hellcat in factory Granite paint, wrap it in Avery Dennison Magnetic Burst vinyl, and you've got a whole different Hellcat on your hands. One that's going to turn heads and melt hearts (not to mention rubber). Or, we can turn that Charger GT from Triple Nickle (blah) to 3M Glacier Gray (oh, yeah!). So, if you want a Charger wrap makeover, give us a call today!
Avery Dennison wrap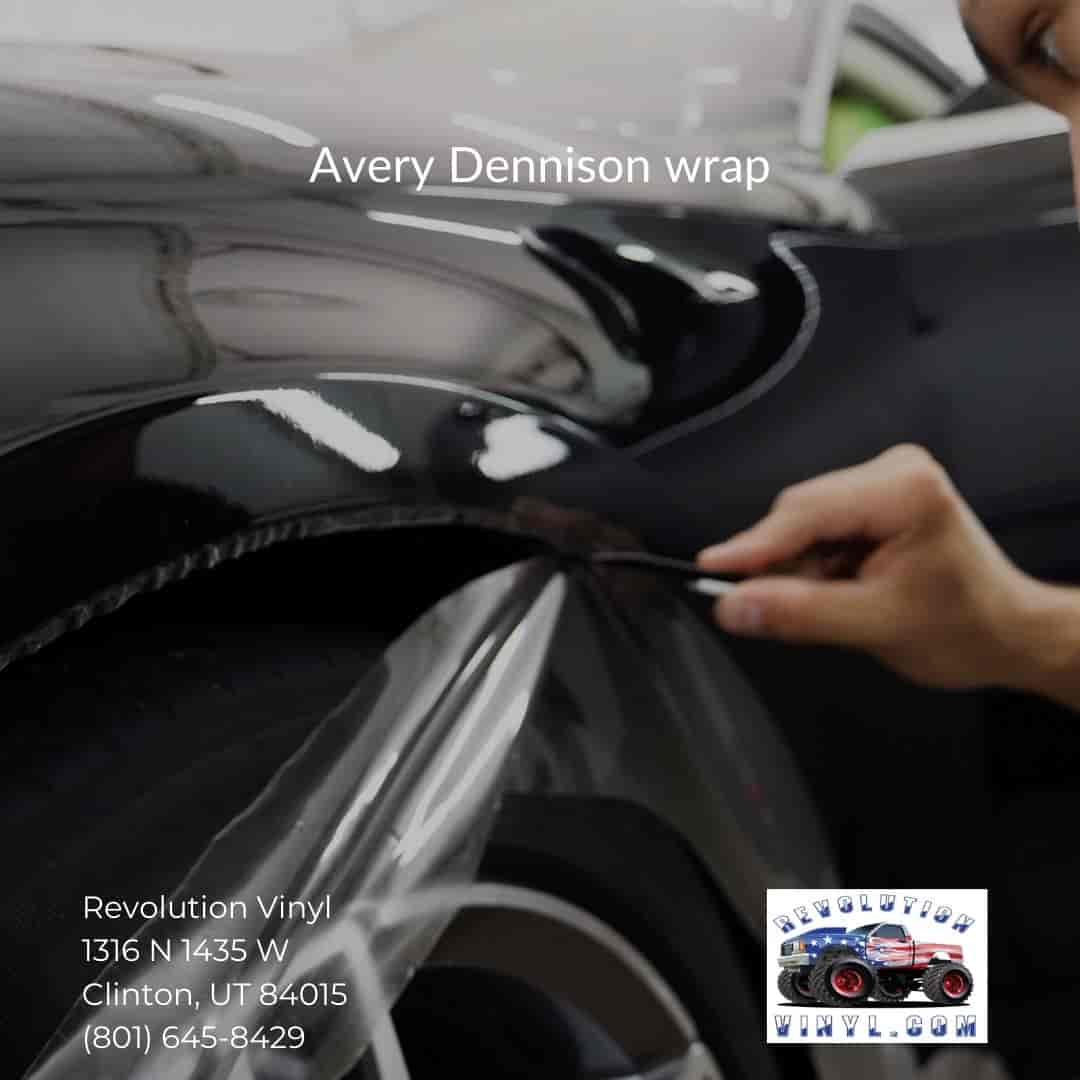 Revolution Vinyl loves Avery Dennison Vehicle vinyl wrap products! In the realm of car wrap vinyl, they are second-to-none and equal to The 3M Company and its vinyls (which is why we offer 3M and Avery vinyl to our customers). Avery Dennison has a demonstrated commitment to ultimate quality assurance, testing, and innovation. Additionally, their designer colors are always at the forefront of automotive color trends. Case in point: the Avery Dennison Colorflow series features "six color shifting iridescent shades" that will definitely make folks look twice, then three times. Fresh Spring, for example, is a green color—or rather a multitude of green colors that shift from a silvery-sage hue to almost yellow with hints of avocado, lemongrass, and other hues in between. Rising Sun is all golden and red, shifting from reddish sandstone to burnished slate, with light goldenrod, light mauve, and other hues scattered in. In short, Avery Dennison has gorgeous wrap colors and high quality.
Blue car wrap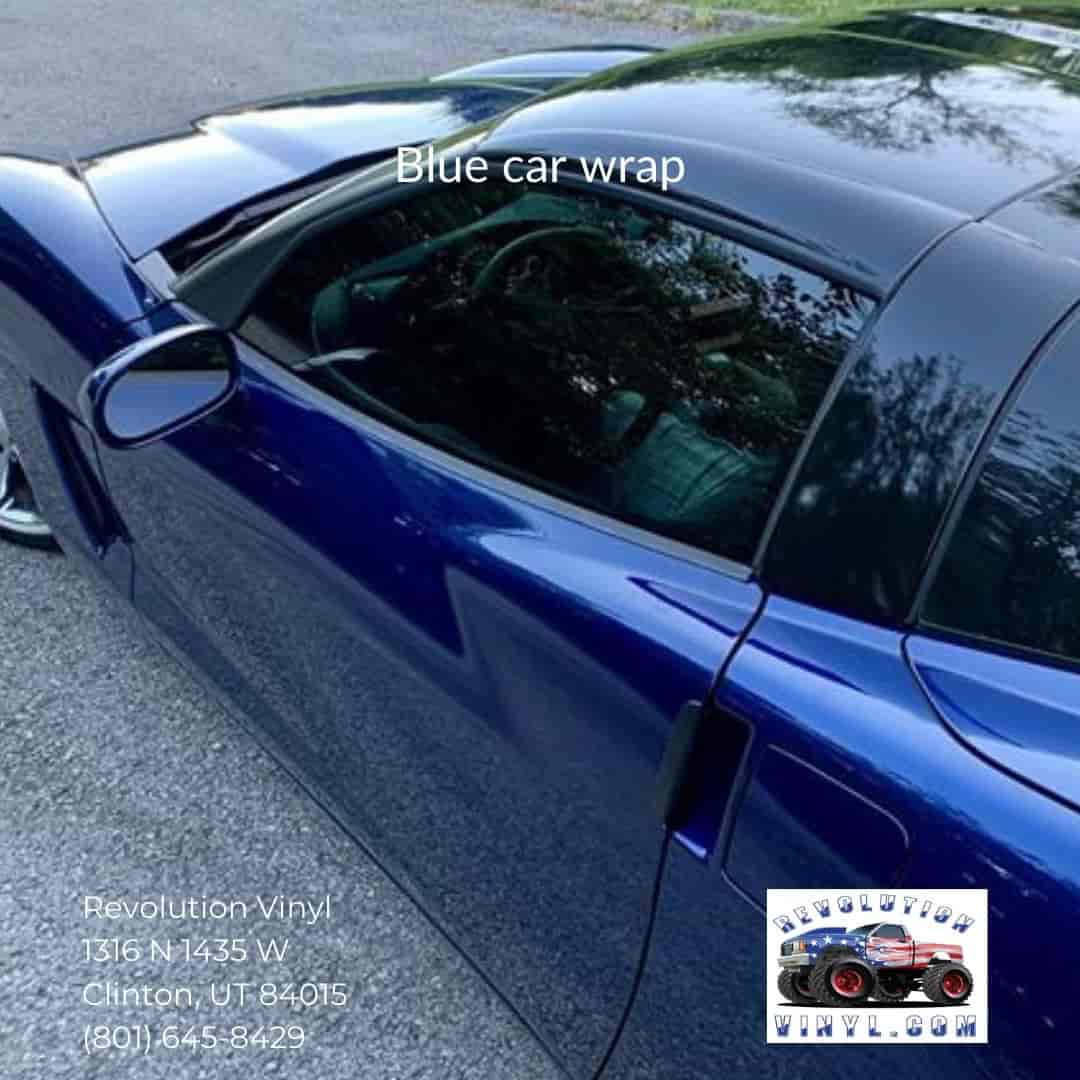 Blue is one of our favorite color families for Vehicle vinyl wraps because of its expressive range. From deep midnight blue wraps to robin's egg tones, blue can be anything from stately to brooding to calm. Avery Dennison's Matte Blue Metallic vinyl film gives a solid, dignified impression, especially on a larger vehicle like a Pickup truck, SUV, or Van. Gloss Smoky Blue, on the other hand, offers a fun yet toned-down blue-gray aesthetic. And its Blue Chrome is a surefire attention-getter for those who want a bit of panache. 3M's Blue Fire is a gloss vinyl wrap with a deep, mesmerizing blue, while its Gloss Ice Blue has grayish flecks for a patterned appearance. Slate Blue Metallic by 3M is a matte vinyl wrap bordering on indigo with just enough gray to take the edge off, while its Riviera Blue (also matte) is a vivid, fun-loving blue that signals adventure and personality. Whatever your favorite blue, 3M and Avery Dennison are sure to have a Vehicle vinyl wrap that captures it.
Purple car wrap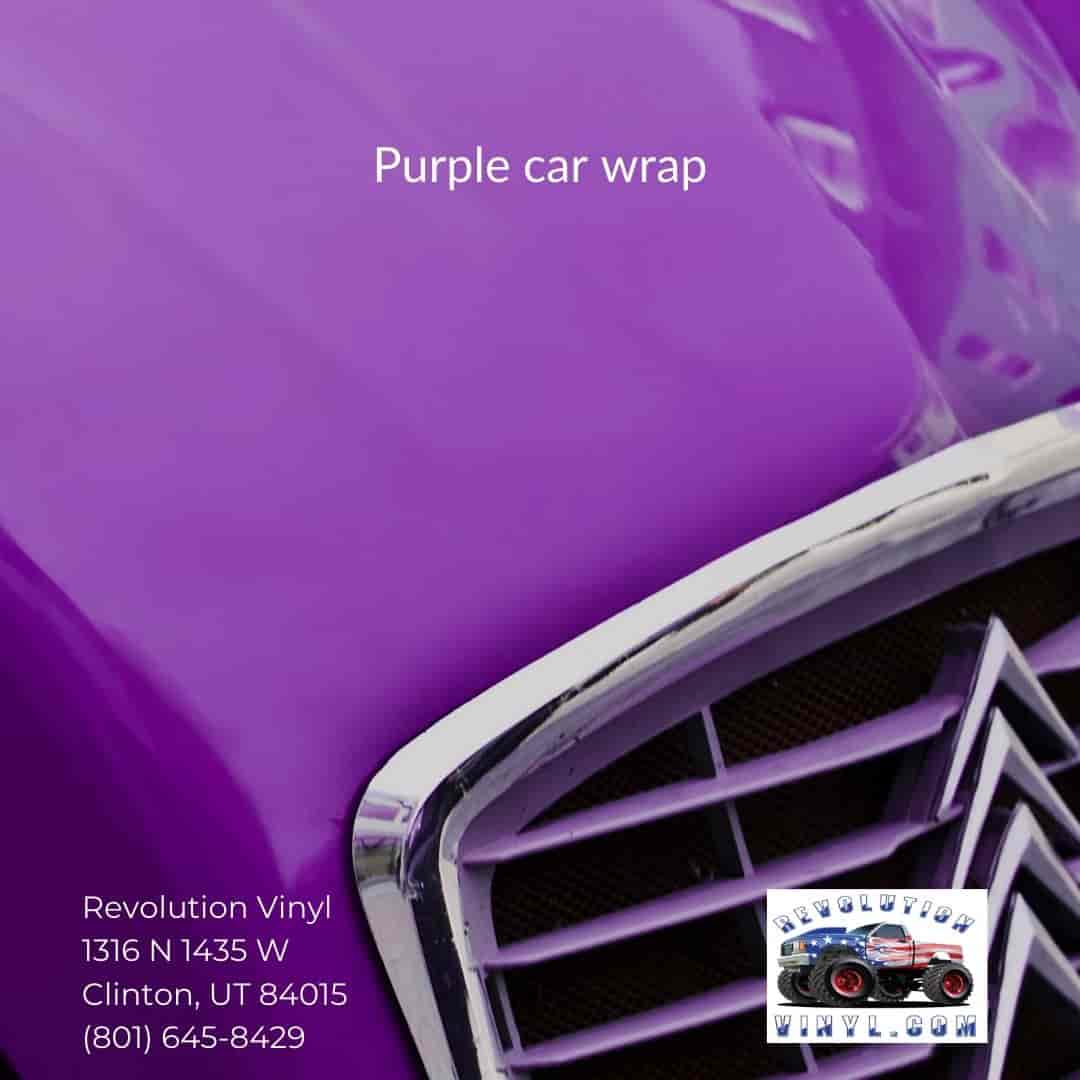 Purple is a less-common color choice for a vehicle finish, meaning if you choose a purple Vehicle vinyl wrap from Revolution Vinyl, your car truck, van, SUV, or other vehicle will stand out from the pack. Granted, purple isn't for everyone, but if you can pull off a purple car wrap, you'll be in rarified air. Here at Revolution Vinyl, we think that purple is one of the most under-rated colors; it was once the color of royalty, and maybe it still is. If you're feeling royal, treat yourself to the undisputed elegance of Avery Dennison Satin Metallic Purple. Or, for even more vibrance, how about Plum Explosion, a gloss vinyl wrap from 3M? For extra pizzaz, you could opt for Avery's chrome wrap in purple, which they call, simply, "Violet." With so many hues and shades of purple vinyl wrap to choose from, why wait? Call Revolution Vinyl today. We're the most regal car wrap shop in the greater Ogden area, and we'd love to purple your Car, Pickup truck, SUV, van, trailer, or Boat!
Camo vinyl wrap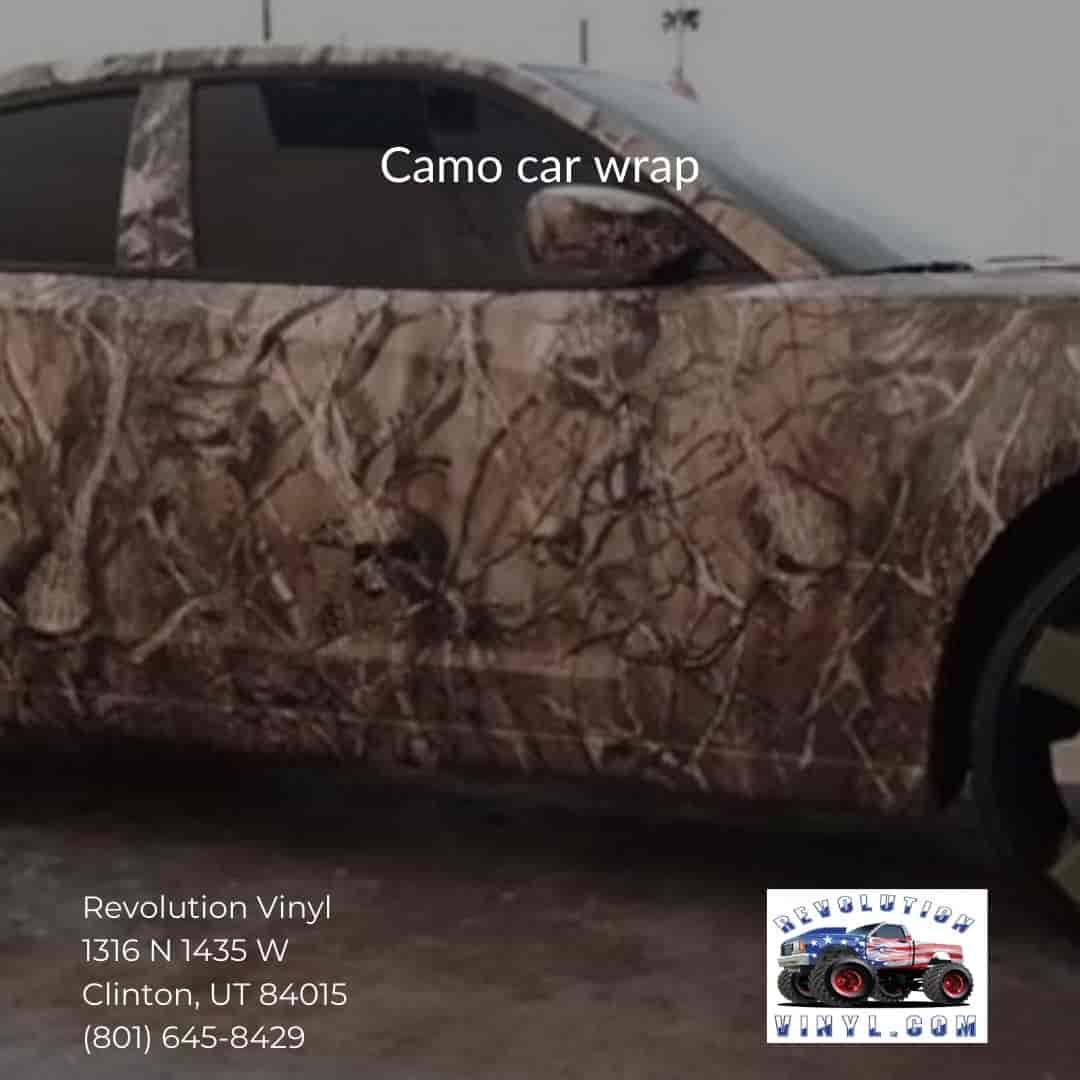 Camouflage patterns can look very cool on vehicles, and with camo vinyl wrap products, you can transform any monochrome Car, Pickup truck, trailer, van, SUV, or RV into a camo fantasy. Camo car wrap options go beyond traditional woodland camo (although there are many variations just on woodland camo). Snow camo, for example, features a lot of white and gray patterns, while desert camo has tans, grays, and greens. Realtree camo goes for a tree bark look with browns, grays, and greens striated vertically in staggered patterns. Then, when you get into the "urban camo" and "digital camo" realms, anything goes and camo car wrap becomes purely abstract expressionism. Blues, yellows, reds, purples…any color combination is acceptable, and the only requirement seems to be that multiple colors create a mottled or randomly-patterned appearance. Whatever your camo wrap pleasure, let Revolution Vinyl assist with your camo car wrap, camo truck wrap, or any other type of camo Vehicle vinyl wrap!
Racing stripe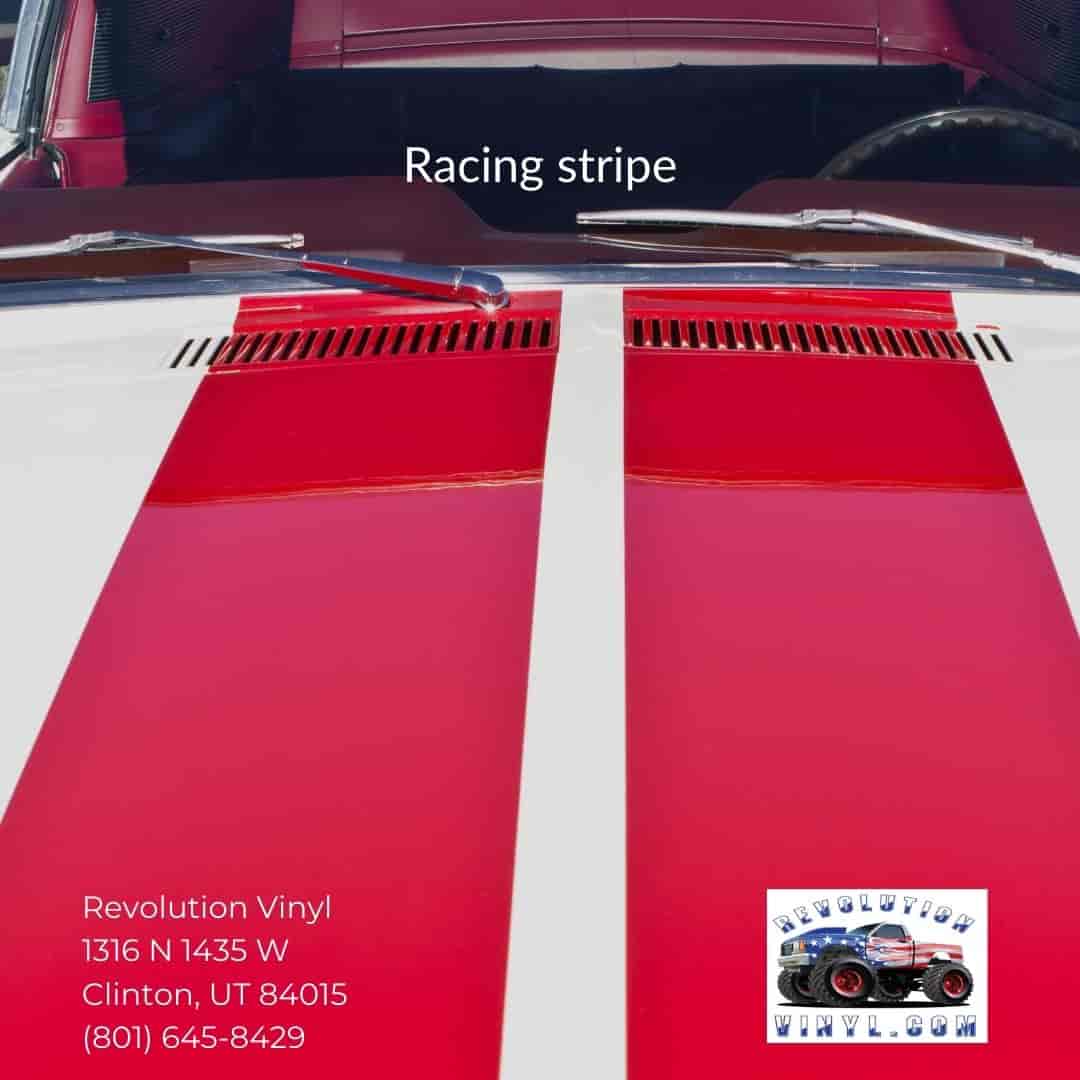 A Racing stripe can be a cool stylistic expression that sets your vehicle apart. According to Wikipedia, "Racing stripes, also called Le Mans stripes or rally stripes, were originally applied to racecars to help identify them in the field during races." By using different combinations of Racing stripe thicknesses and groupings, a car's hood would have a unique visual signature. Now, you may not be racing your Dodge Challenger, Mazda Miata, or Subaru Impreza at LeMans, but you can create your own signature appearance with the application of a vinyl Racing stripe from Revolution Vinyl. Interestingly, racing stripes also apply to boats and Personal watercraft. Again, according to Wikipedia, the term "Racing stripe" is "also used to refer to diagonal lines painted on watercraft hulls, usually on vessels belonging to a country's coast guard." So, whether you've got a Catamaran, a bass boat, a Ford Mustang, or a Lincoln Navigator, call Revolution Vinyl to get your Racing stripe on!
Chrome car wrap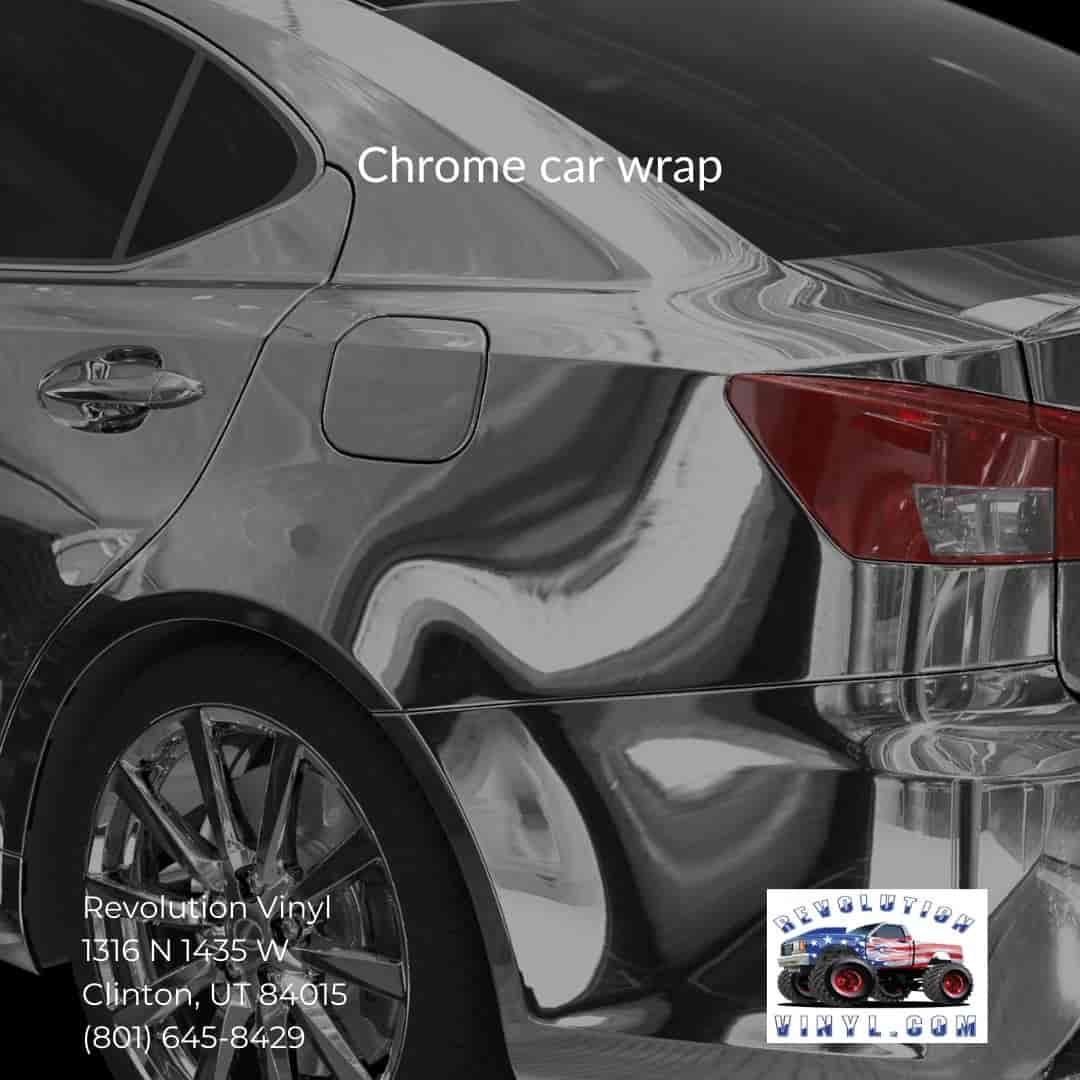 Let's get this out of the way upfront: a chrome car wrap is one of the most expensive Vehicle vinyl wrap types you can get. That said, if you've got the budget and like attention, nothing gets second and third looks like the flash of chrome on the freeway, street, or in the parking lot. Innovations in chrome vinyl wrap technology have produced a plethora of chrome color options. No longer are you confined to "classic chrome"—the chrome we all know. Now we have blue chrome, red chrome, purple chrome, and even black chrome. 3M Gloss Silver Chrome nods to traditional chrome, while having a more dignified, grayed-out shine. Then there's Avery Dennison's "Conform Chrome" Vehicle vinyl wrap chrome color set, which includes Rose Gold Chrome, Chrome Violet, and Matte Silver chrome. If you're interested in a chrome car wrap but find the cost of a total car vinyl chrome wrap prohibitive, you could settle for chrome mirrors, a chrome spoiler, chrome doorhandles, or other chrome accents!